גוט נייַעס: The Shivah - Kosher Edition
Rabbinical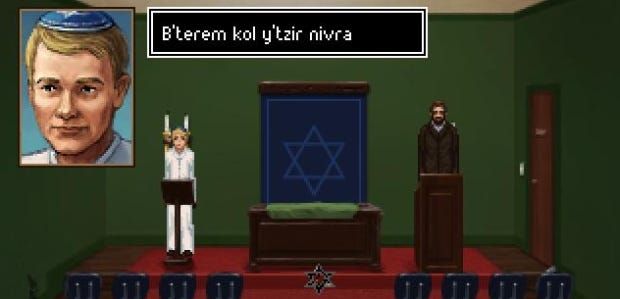 The very first game I played by the excellent Dave "Wadjet Eye" Gilbert was The Shivah. Released in 2006, it was in what adventure gamers know as The Shut Up About Them Being Dead Years. And I'd not kept up with the thriving AGS scene, I'm ashamed to say. So The Shivah was such a fantastic surprise. A sad, careful and deeply smart game about an older Rabbi struggling in his faith. It was also a murder mystery, complete with crime cartels and moral quandaries. So I'm really rather pleased to learn that Gilbert and his team of industrious squirrels have remade the game from scratch.
That's new pixel art, backgrounds, music, the lot. Same fantastic story, and new non-hissy voice recordings. Of course, this is still a Gilbert game, so that update really is the equivalent of an EGA game getting an SVGA overhaul. And if you're too young to understand what that means, then high five yourself and enjoy not having that weird heavy feeling on your heart.
So yes, it still looks like something from 1991, but that's obviously completely unimportant. The new version is heading to Steam (as well as iThings), and can be pre-ordered on Wadjet's site now for just $4, Steam key included. It's a great little game, but if you don't trust me for some ghastly reason, you can download the demo of the new version from here.