Puzzling Probing: 0rbitalis Launched On Steam Early Access
Surfing gravitational waves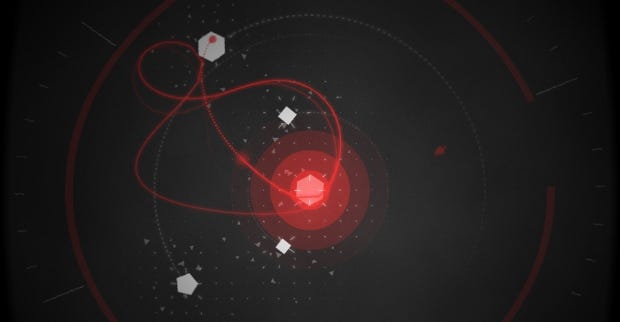 As a sceptic, I'm hesitant to believe in anything I can't see. That's why I schlep myself around in lead diving boots rather than trust in your supposed 'gravity.' I'm not closed-minded though, so I am willing to entertain the idea that it may be caused by marionette strings or invisible steel rods or something. Along comes gravity simulator 0rbitalis (yes, that is a zero) to assist my studies.
Out now on Steam Early Access on Wednesday at £2.09, the downtempo puzzler's about plotting paths for space probes through gravitational currents, trying to avoid smashing into things.
Having played a fair bit at EGX Rezzed, I'll be picking 0rbitalis up to continue investigating this so-called spacetime distortion. Each level's simply about keeping a probe safely dancing around space until a timer ticks down, avoiding smashing into asteroids, stars, and assorted space oddities or vanishing off into deep space. The only real responsibility is setting a probe's trajectory and power then launching it, at which point I found myself waving my hands frantically like a bowler hoping to will my ball to curve into a strike.
There's an element of luck, to be expected given how complex gravity seems to be, but later levels demand careful planning. It's awfully pleasing when this pans out, successfully slingshotting around a distant moving asteroid or curving perfectly into a stable orbit.
It's certainly a pretty game, with subdued tones against a black uncaring void, and sounds quite pleasant too. Music and effects come from doseone of Anticon, cLOUDDEAD, Themselves, and Samurai Gunn fame, who I'm delighted to hear working in games more.
In the interest of full disclosure, I do know creator Alan Zucconi and did crash in a spare bed in his hotel room at Rezzed after missing my last train back to London because a pub was in the way. I'm only more cold and ruthless after a good night's sleep, mind. Look, see it for yourself: