Gamescom is over for another year and we've got another batch of the week's best gaming deals from around the web to check out. That must mean it's Friday, right? This week gave us a whole bunch of downloadable discounts as well as one of the best prices around for a GeForce 1080 Ti, so read on, dear reader and we'll check them all out.
We've got deals that'll work in the UK, deals that'll work in the US and some deals that will work in both the UK and US, as well as presumably many other places. Let's get started.
UK & US Deals
Humble Spooky Horror Bundle
If you fancy a couple of cheap thrills, you can get just that with Humble's latest bundle – the Humble 'Spooky Horror' Bundle. That name could probably have used some work.
Here's what you can get for the next couple of weeks.
Pay what you want
Dead Age
DreadOut
DreadOut: Keepers of the Dark
Lakeview Cabin Collection
Pay more than the average
Layers of Fear: Masterpiece Edition
Alien Isolation
Five Nights at Freddy's: Sister Location
Pay $10 (£7.79) or more
Dead by Daylight
Pay what you want for the Humble Spooky Horror Bundle
It's also worth noting that, as it's almost the end of August, you've got a very limited amount of time to sign up to Humble Monthly and get a copy of Killing Floor 2 for £10 / $12, alongside a stack of games that will be unveiled early next week.
Killing Floor 2 on PC (Steam) for £10 / $12 from Humble Monthly
Bethesda Shooter sale from GOG.com
GOG is offering up some of history's all-time best first-person shooters for dirt cheap this week, all of which conveniently found themselves under the Bethesda umbrella, making this the Bethesda Shooter collection. Here's what you can get:
DOOM II & Final DOOM for £1.99 / $2.49 / €2.29
Ultimate DOOM for £1.19 / $1.49 / €1.39
Quake II: Quad Damage for £1.99 / $2.49 / €2.29
Quake III: Gold for £2.99 / $3.74 / €3.39
Quake: The Offering for £1.99 / $2.49 / €2.29
Return to Castle Wolfenstein for £1.19 / $1.49 / €1.39
Wolfenstein 3D & The Spear of Destiny for £1.99 / $2.49 / €2.29
Up to 75% off Bethesda Shooters from GOG.com
Up to 80% off fantasy games in GOG's Weekly Sale
It's all gone a bit D&D in GOG's Weekly Sale offerings this time around. You can save up to 80% on titles from the Dungeons and Dragons, Dragon's Dogma, Dragon Age & Mount and Blade franchises this week. Also, Dead Space and Crysis for some reason.
Some highlights:
Dungeons and Dragons: Ravenloft Series for £2.69 / $3.39 / €3.09
Dragon's Dogma: Dark Arisen for £9.59 / $11.99 / €11.99
Dragon Age Origins Ultimate Edition for £3.09 / $3.99 / €3.99
Dead Space for £3.79 / $4.99 / €4.59
Crysis for £3.79 / $4.99 / €4.59
Mount and Blade for £1.59 / $2.49 / €1.99
Mount and Blade Warband for £3.09 / $3.99 / €3.99
Up to 80% off the GOG Weekly Sale
Teeny tiny Bluetooth controller for £6 / $8
8Bitdo, a company best known for making those Bluetooth controllers that look like SNES and NES controllers, has got a very tiny alternative to regular wireless controllers for you. The ZERO FC30 Bluetooth pad is small enough to fit on a keyring but still manages to be fully compatible with iOS, Android, PC, Mac and even Nintendo Switch. Plus, it'll only cost you £6 / $8.
8Bitdo ZERO FC30 Bluetooth controller for PC/Mobile/Switch for £5.94 / $7.69 from GearBest
Up to 85% Humble's Single Player Sale
Humble is celebrating introverts this week with a sale offering up to 85% off some of the best single player games of recent years. The range includes titles like Rogue Legacy, Prison Architect, The Binding of Isaac, To The Moon, Reigns, Hacknet, The Stanley Parable, and more.
Highlights:
Rogue Legacy for £1.79 / $2.24 / €1.94
The Binding of Isaac: Afterbirth for £5.49 / $5.49 / €5.49
The Binding of Isaac: Rebirth for £3.73 / $5.09 / €5.09
To The Moon for £1.59 / $1.99 / €1.69
Sunless Sea for £4.49 / $5.69 / €4.94
Reigns for £1.24 / $1.49 / €1.49
The Stanley Parable for £2.46 / $3.74 / €2.99
Hacknet for £3.49 / $4.99 / €4.99
Orwell for £4.68 / $6.69 / €6.69
Infinifactory for £9.49 / $12.49 / €11.49
Mini Metro for £3.99 / $4.99 / €4.24
Up to 85% off Single Player Sale from Humble Store
UK Deals
GeForce 1080 Ti with Destiny 2 for £690 for Prime Members
Amazon Prime members have exclusive access to this deal, which lets you pick up a GeForce GTX 1080 Ti 11GB graphics card, manufactured by Gigabyte, for just £690 right now and get a free digital copy of Destiny 2 along with it. That's a very decent price for one of the most powerful graphics cards on the planet right now.
Gigabyte GeForce GTX 1080 Ti 11GB with Destiny 2 on PC for £689.98 (Prime members only) from Amazon UK
55-inch OLED 4K TV from LG at its cheapest price yet
Once more there's a deal on an OLED 4K television that makes me question exactly how far I can stretch my overdraft. This time, the 2017 edition of LG's masterpiece 55-inch OLED 4K set with HDR is down to £1799.10 when you enter the code TVSAVE at Argos.
LG 2017 OLED 55-inch 4K TV with HDR for £1799.10 using code TVSAVE from Argos
£300 off an ASUS ZenBook 3
The very sleek and very skinny ZenBook 3 from ASUS is on offer this week at Currys PC World. While still not exactly cheap, it's down to £799.99 from its original £1099.99, saving £300 for the time being.
ASUS ZenBook 3 UX390 12.5-inch laptop for £799.99 from Currys PC World
Get a convertible laptop from HP with £100 off
This HP Envy x360 laptop is the type of laptop that can be flipped around completely and kind of turned into a big tablet if you like. You can save £100 off the price of it directly from HP's own online store, if you enter the code BANK100 at checkout.
HP Envy x360 convertible laptop for £649 using code BANK100 from HP Store
Google Chromecast down to £19
I don't think I've watched live television for at least seven years. Definitely not since on-demand apps became the norm and companies started putting out USB stick type devices that allows users to use those apps easier than ever. Enter, the Chromecast, which is down to £19 at the moment at Currys.
Google Chromecast for £19 from Currys PC World
Turtle Beach Ear Force Atlas headset for £35
Argos is selling off all of its leftover stock of the Titanfall-branded Turtle Beach Ear Force Atlas gaming headset, compatible with Xbox 360, Xbox One and PC, for its lowest ever price – £34.99, while stock lasts.
Turtle Beach Titanfall Ear Force Atlas headset for Xbox and PC for £34.99 from Argos via eBay
Up to £20 off gaming and tech bits from Tesco's vouchers
Tesco's money-off vouchers on gaming and tech stuff are back! That means you can get up to £20 off some of the most fun stuff around, including Switch consoles, upcoming releases, Amazon Echo at its lowest ever price, and more. To give you some inspiration, besides the aforementioned PS4 Pro deal, here's a bunch of stuff you can get right now when you use one of these codes.
£5 off £35 ore more – TDX-HMFR

Mario and Rabbids: Kingdom Battle for £39
12 Months of PlayStation Plus for £35
12-month Xbox Live Gold subscription for £34.99
Call of Duty WW2 for £43
Zelda: Breath of the Wild for £43

Save £5 on a £35 or more purchase from Tesco Direct
£10 off £75 or more – TDX-HYTP

New Nintendo 2DS XL for £119.99
Fitbit Charge 2 Fitness Tracker for £99.99
Amazon Echo for £89
Xbox One Elite Controller for £104
Amazon Fire TV with 4K for £69

Save £10 on a £75 or more purchase from Tesco Direct
£20 off £150 or more – TDX-WFTW

Nintendo Switch for £259.99
PS4 Slim Limited Edition Silver edition for £229.99
Xbox One S 500GB with FIFA 17 for £199.99
iPad 9.7-inch edition for £319
Dyson DC40 Multi-floor upright vacuum cleaner for £169

Save £20 on a £150 or more purchase from Tesco Direct
US Deals
Save $150 on a G-Synch 144Hz gaming monitor
If you've been looking to add a fancy new monitor to your overall gaming PC setup, you may just want to check out Best Buy's current deal on this sizeable 27-inch Dell gaming monitor. It's G-Sync compatible, has a 1ms response time and is capable of up to 144Hz refresh rates. It's also $150 off right now.
Dell 27-inch LED G-Sync 144Hz monitor for $449.99 from Best Buy
Sonic Mania for $15 just ahead of launch
Sonic Mania finally releases on PC next week and, if my experience with the game's Switch version is any indication, it's not one to miss out on. You can pick up the Steam version of the game for a little less than normal by using the code EMCRJCE62 at NewEgg right now.
Sonic Mania on PC (Steam) for $14.99 using code EMCRJCE62 from NewEgg
Rick and Morty Clue exists because of course it does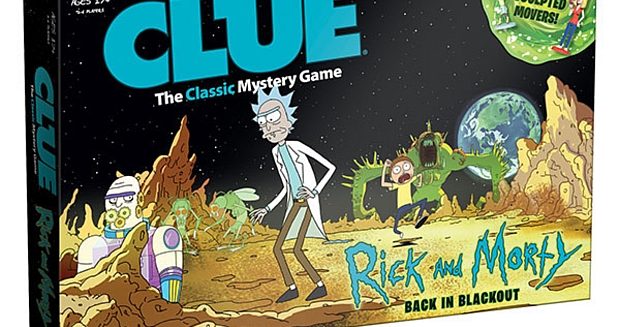 Not even a month after I mentioned Rick and Morty Monopoly being a thing, here we are again, staring at the latest that the marriage of pop culture and consumerism has birthed – Rick and Morty Clue. That's Cluedo for everyone reading this outside of America, by the way. Either way, this is most definitely also a thing and it can be yours for 40 bucks via ThinkGeek.
Rick and Morty Clue – Back in Blackout for $39.99 from ThinkGeek
Okay, we're done for another week. Keep in mind that deals, prices and availability can change at the drop of a hat, so apologies if you miss out on something you wanted. I'll be over at Jelly Deals, scouring the world wide web for more deals. Feel free to visit, or follow us on Twitter and give us a like on Facebook.
Did you know that Jelly Deals has launched a newsletter? It lets us bring the best deals directly to you each day. Subscribe here, if that seems like your kind of thing.