Warm-up Foxer (Where am I?)
I'm standing under a rusting railway bridge constructed in 1894. I can see a red octopus. I'm at the same latitude as one of France's régions d'outre-mer. I'm a stone's throw from a stadium named after a winner of the world's oldest annual marathon. The country I'm in has weapons on its flag. The antipode of this spot is in the Indian Ocean. I'm 250m from a railway museum.
Feature Foxer
This collage has a hidden theme. Decrypt the cryptic clues to flush it out.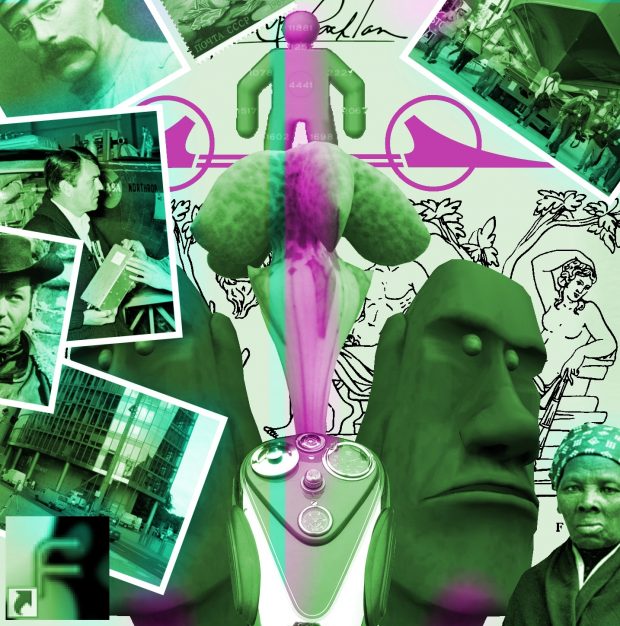 * * *
SOLUTIONS
Last week's warm-up foxer: I was The Senator (unsolved)
Last week's feature foxer
1. Kuju – Behind MSTS (AFKAMC)
2. Jungle – The natural habitat of a Chindit (AFKAMC)
3. Leopard – One of WW2's paper panzers (Gothnak, Rorschach617)
4. Ardent – Sunk during the Falklands War (Gothnak, Rorschach617)
5. Entebbe – A lakeside town that hit the news in 1976 (Rorschach617)
6. Bergamot – Can be used to flavour tea (Bergamot)
7. Motorcade – The collective noun for a group of limos? (Gothnak)
8. Deperm – An unusual USN ship that slipped beneath the waves in 1982 (ylla)
9. Ermine – Leonardo da Vinci painted one (Gothnak)
10. Inert – A word that can go before munition and gas (Little_Crow)
11. Ertugrul – His son founded an empire that lasted over 600 years (Gothnak, Little_Crow)
12. Ulster – A garment mentioned in The 39 Steps (phlebas)
13. Terrapin – An Allied WW2 AFV that you won't find at Bovington (phlebas)
14. Pinto or Interceptor – A Ford product (phlebas)
15. Torpedo – A word that can go before boat, alley, or net (phlebas)
16. Dostoyevskya – A metro station close to a Kursk Submarine Disaster memorial (Little_Crow)
17. Yardarm – Found high up on a square-rigger (Little_Crow)
18. Armagnac – This Continental propliner wasn't a success (phlebas)
19. Acheron – A river mentioned in Dante's Inferno (Cooper, Gothnak)
20. Rongorongo – Mysterious Pacific hieroglyphs (Cooper)
21. Godwit – A curlew-like wader (Gothnak)
22. Wittmann – One of Steel Division's 'aces' (Gothnak)
23. Annatto – Can be used to colour cheese (Gothnak)
24. Toad – A Churchill tank variant (AFKAMC)