16
Best PC gaming deals of the week
Barbie Croft and loads of cheap games
This week is a fun one. Not only because I get to briefly mention Tex Murphy again in an article (though, admittedly, that is a fairly big factor) but because the deals have been plentiful. Onto Tex Murphy business though – you can get Tex Murphy cheap right now and you should, if you have a weak spot for film noir, adventure games or general silliness.
As usual, we've got deals that'll work in the UK, deals that'll work in the US and some deals that will work in both the UK and US, as well as presumably many other places. Let's get started.
UK & US Deals
Humble's brand new, genre-spanning bundle is the Humble 'Classics Return' Bundle, which features a variety of fan favourites returning from the dead. These include Broken Sword, Tex Murphy, Wasteland 2 and more.
Here's what the whole bundle looks like:
Pay what you want:
Broken Sword 5: The Serpent's Curse
Shadowrun Returns
Tesla Effect: A Tex Murphy Adventure
Pay more than the average:
Shadowrun Hong Kong
Wasteland 2: Director's Cut
Age of Wonders 3
Xenonauts
Pay $15 (around £11) or more
Torment: Tides of Numenera
Dreamfall Chapters: The Final Cut Edition
Pay what you want for the Humble Classics Return Bundle
The Humble Store is currently offering up to 75% off a bunch of Ubisoft titles, featuring everything from Ghost Recon Wildlands with 55% off, to For Honor with 67% off, but no one will mind if all you want to pick up is Steep while it's half price
Ubisoft Sale from Humble Store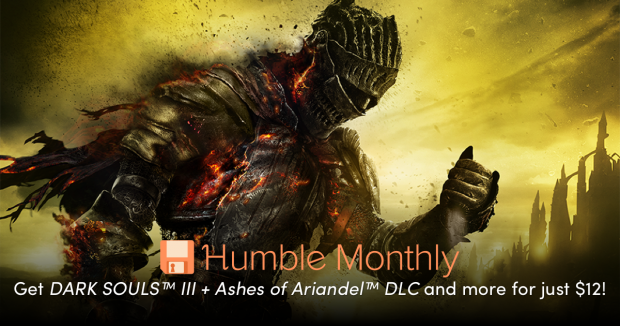 This month, signing up for a Humble Monthly subscription will get you instant access to a copy of Dark Souls 3 as well as the Ashes of Ariandel DLC pack, along with a stack of other games once the month finishes out, all of which will cost you $12 / £10.
Dark Souls 3 and Ashes of Ariandel DLC for $12 / £10 with Humble Monthly
UK Deals
Microsoft is offering up a bundle on a Surface Pro at the moment. Right now, you can pick up an i5, 128GB model Surface Pro with a bundled in Type Cover and get the whole lot for £749, a saving of over £300.
Microsoft Surface Pro i5 128GB with Type Cover for £749 from Microsoft Store
This 31.5-inch AOC monitor is a bit of a beast, features FreeSync, a max resolution of 2560×1440 and is reduced by £90 this week. That brings the price down to £179.99 while the stock remains there.
AOC Q3279VWF 31.5-inch monitor for £179.99 from Amazon UK
Alternatively, you could go for this Acer gaming monitor. It's a smaller 24.5-inch model but it features a 240Hz refresh rate, a 1ms response time and a very pointy design. This one is down £170 to £379.97 this week.
Acer XB252Qbmiprzx 240Hz 24.5-inch gaming monitor for £379.97 from Currys PC World
This set of Sennheiser HD 4.40 Bluetooth wireless headphones is down £40 to £89.99 this week, over at Argos, in case you suddenly develop a need to shut yourself off from the world and listen to the Hamilton soundtrack again. We've all been there.
Sennheiser HD 4.40BT wireless headphones for £89.99 from Argos
US Deals
Amazon US has got a sale going on featuring a variety of EA published PC titles. You can pick up some of the company's most recent releases dirt cheap, but if you only buy one thing, you absolutely should get that $5 copy of Titanfall 2.
Titanfall 2 on PC for $4.99
FIFA 18 on PC for $19.99
Star Wars Battlefront 2 on PC for $23.99
Mass Effect Andromeda on PC for $9.99
Mass Effect Trilogy on PC for $7.49
Need For Speed Payback on PC for $23.99
Battlefield 1: Revolution Edition on PC for $19.99
If you want to get your VR on in a big way, you can save some cash by getting this bundle of an HTC Vive with the Vive Racket Set and Tracker from the Microsoft Store, where the whole lot will cost you $598 for the time being.
HTC Vive with racket set and Tracker for $598 from Microsoft Store
Last but certainly not least, you may have seen by now that there's a Tomb Raider Barbie doll on the way. If you'd like to own it, you can get a pre-order in right now from the official Mattel website. That tiny pick-axe is adorable.
Tomb Raider Barbie Doll for $29.99 from Mattel
Okay, we're done for another week. Keep in mind that deals, prices and availability can change at the drop of a hat, so apologies if you miss out on something you wanted. I'll be over at Jelly Deals, scouring the world wide web for more deals. Feel free to visit, or follow us on Twitter and give us a like on Facebook.
Did you know that Jelly Deals has launched a newsletter? It lets us bring the best deals directly to you each day. Subscribe here, if that seems like your kind of thing.