Kingdom Come Deliverance: side quests
Tackle the middle ages side on
Kingdom Come Deliverance: Scavenger
You might remember Kunesh from the opening of the game, back in Skalitz. He wasn't exactly Henry's, or his father's, favourite person, refusing to pay the debts he owed to the blacksmith. Like many refugees from the town he has made it to Rattay, where he begs in the town square on his hands and knees. When Henry sees his old acquaintance, he strikes up a conversation.
Gent that he is, Henry reminds the impoverished beggar that he still has a debt to pay, but it's quite obvious that he's unable to pay it back. If you succeed in persuading him, Kunesh offers to settle his debt with information regarding a treasure buried in Skalitz – if your silver tongue fails you, and you persist in your line of enquiry, it can end in a fight. Let's not take that option, and try to track down the treasure, which is apparently buried under a dovecote.
Find the treasure under the dovecote
Off we go back to our old hometown, then. If you're unsure how to get there, it's in the northwest of the game world, and don't be afraid to spend the night at a town along the way if it gets too late.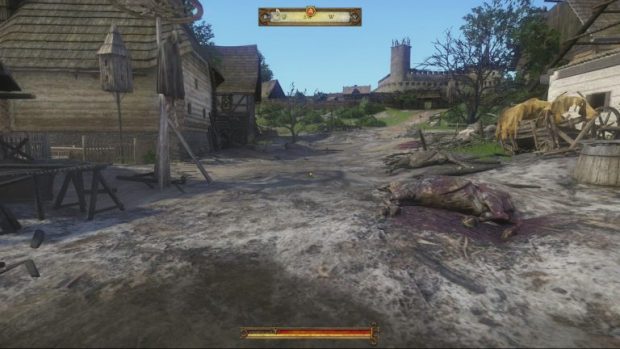 Not much has changed in Skalitz since you buried your parents in the early main quest Homecoming, although the other bodies are gone now, at least. Let's focus on finding the treasure – you remembered to bring a shovel, right?
The entire village is marked with a yellow circle on the map, so you're given no help with finding the dovecote. Obviously you're here because you want to know exactly where it is though, so read on to find the precise location.
Enter Skalitz through the eastern gate, keeping left on the path as it wends along between the ruined buildings. The dovecote lies in the middle of this path – go to its southeast side and turn around. If you turn your attention to the floor, now, a message should appear informing you that you may dig here. Do that to find a buried sack that contains a goblet belonging to Beran, and 100 Groschen. Kunesh has more than paid off his debt with this, it seems.
You can now choose whether to keep the goblet and money, or whether to return them to Beran in Rattay. You'll be rewarded with gold if you return both of them, though obviously not as much gold as was in the sack.
Continue with: Kingdom Come Deliverance: The Horse That Bolted.
Back to the main Kingdom Come Deliverance walkthrough.