1
Warframe prime relics: how to get the best gear
Prime Warframes and Weapons are some of the most powerful tools in a Warframe player's arsenal. That means, of course, they're going to be the hardest to get. To get Prime parts, you're going to have to go through the long process of farming Relics. The four types of relics (Lith, Meso, Neo, and Axi) all have different drop tables, and things get complicated when you try to understand them. So let's take a look.
Relics are items that drop Prime parts and Formas when you unlock them. You unlock them by running Void Fissure missions. But before you do that, there's some stuff you've got to take care of.
First of all, you've got to find yourself a few Relics in the first place. For the most part, you're going to find them by running missions, but if you're looking for specific Prime parts, you're going to need to find specific Relics. For example, Nekros Prime Blueprints drop out of Lith N3, Meso N3, and Axi N3 Relics, while their Neuroptics drop out of Axi N5 and Meso F1. Each of those relics has a chance to drop the part you want, but it's not guaranteed. So, you'll have to open up multiple Relics to find the part you want. Check out the Warframe Wiki to find out exactly which Relics you need for each part. I keep a spreadsheet to keep track of all my Relics and which ones I need to complete my Prime gear.
To get more of each type of Relic, you're going to have to know where to go to get the Relics you need. For the most part, you'll be getting Relics by running so-called "endless" missions. Look for missions labeled as Defense, Excavation, Survival, Interception, and Defection missions for types you can run endlessly (though I'd recommend sticking to the first three for ease's sake). On low level missions, you'll find Lith Relics, then in ascending order of levels, Meso, Neo, and finally, Axi.
Once you've gotten your hands on some Relics, head into the Relics page in your inventory and take a look at the items they have a chance to drop. Every Relic has a loot table of three common items, two uncommon items, and one rare item. Assuming the Relic is unrefined, the common items are vastly more likely to drop than the higher rarities. By spending some Void Traces on "refining" them, you can increase the chances of an uncommon or rare drop.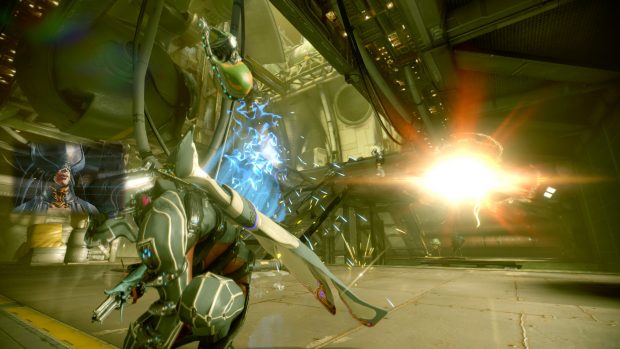 Void Traces drop from running Void Fissure missions, just in case you were wondering. You'll end up with a decent chunk of them, but can only hold a certain amount, so be sure to spend them on the Relics you really want to pay off for you.
Now that you know what you're aiming for, it's time to run the aforementioned Void Fissure missions. Load up the Navigation page, hit the Void Fissure tab, and select the mission you want to run. As you'd expect, Lith Void Fissure missions are lower level missions, while Axi are much higher.
Once in, it's time to open them up! In the mission, you'll see certain enemies go invulnerable for a moment before emitting a shimmering glow. It's pretty obvious when it happens. Kill those enemies for a chance to drop Reactant. Once you've picked up 10 Reactants, your Relic will crack open. Just finish up the mission to see what's inside!
If you're running Void Fissure missions with more than one person on your team (four people his highly recommended), you'll get a choice from the parts that every person on your team has opened up. If you didn't find what you want, maybe someone else found something that you did.
But seriously, make a spreadsheet. It'll make your life far easier.
Head back over to our main Warframe guide for everything else you need to know about Digital Extreme's loot shooter.