20
Microsoft Surface Book 2 review: A 15in gaming laptop in disguise
Scratching the Surface
Microsoft have been striving to present a stark alternative to Apple's coffee-shop-ubiquitous Macbook line for a while now. In the past, their Surface range of (mostly) hybrid laptops/tablets have hardly been gaming machines, but that's now changed with current range-topper, the shockingly expensive Surface Book 2. Its industrial edges and muted silver tones mean it announces itself as all business in the streets, but the Nvidia GeForce GTX 1060 tucked inside its detachable keyboard base makes a case for more than casual gaming in the sheets.
In theory, then, a gaming laptop not to feel hideously embarrassed by – not least because removing the keyboard and brandishing a hilariously large 15in tablet on the train will generate all the self-consciousness you could ever require.

Full disclosure first: I bought the Surface Book 2 used for this article, as we weren't able to get hold of a review unit promptly and I was itchy-keen to sample a lappie that seemingly ticked a ton of personally-important boxes (such financial recklessness is rare for me, but I succumbed to temptation as a friend could use their student discount on the MS store). I say this up-front because investing a huge sum of cash in something means one feels inherently different about it than they would something loaned for free for a while – there's that burning need to justify the purchase. Still, I'm a picky sonuvagun, so this won't be breathless praise of my own decision-making, promise.
The Microsoft Surface range's shtick has long been devices that switch between laptop and tablet by attaching and removing a keyboard cover/base. In the main, the scales were tipped mostly in favour of tablet, with the keyboards being functional but insubstantial affairs that couldn't recreate the solidity and lap-friendliness of a conventional laptop.
The specs tended to be middling too, as Surfaces were more interested in slimline portability and decent battery life than they were raw grunt. My Surface Pro 3 from 2015 has been my trusty on-the-road work companion until now, but playing games with even a whiff of 3D on it was a no-no, and video-editing could get painful. Still, it remained a doughty device to this day, and I felt real sadness when I sold it on to partially fund the Surface Book 2.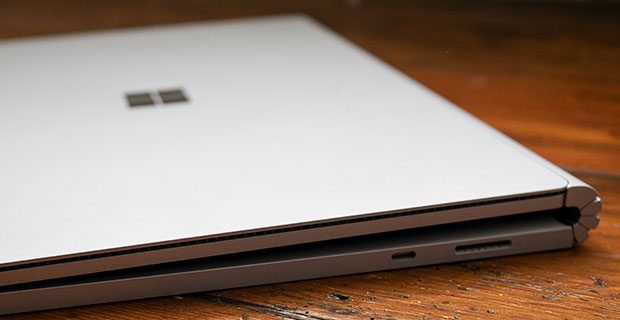 The Surface Book range is different to (most) of the rest of the Surface range, as these are first and foremost proper, and high-end, laptops, very much intended to be a respectable Windows alternative to Apple's ooh-look-at-me Macbook Pros. They retain the Surface party trick of switching to tablet mode when you wrench the keyboard away, but it's a full, solid base rather than a thin flap, held by electromagnets onto a thick, compressing hinge that either oozes industrial chic or looks like a bunch of marshmallows squeezed together depending on where you're coming from.
In the case of the 15in variant of the Surface Book 2 (there's a less powerful 13in, which is not realistically gaming-capable), the base also contains a more-or-less full-fat 6GB Nvidia GeForce GTX 1060. It's hardly a top of the line graphics card, and it should be said that the significantly more powerful Nvidia GeForce GTX 1070 can be found in laptops that aren't substantially bigger, and even for a lower price. But it is more than enough to run any current game at high settings, 1080p and 60fps. It's also rare (though not entirely unheard of) to find it not housed in something that looks like Tron and Slayer gene-spliced together by someone who didn't care about either of 'em.
I won't pretend that appearance wasn't some of my motivation in wanting a Surface Book 2. I've always liked my tech in silver and with non-fussy design, and even the less wretched gaming-specific laptops tend to be dour black with some sort of neon-hued mythical animal logo and lurid keyboard backlighting. Each to their own, but I guess my aesthetic is permanently stuck at 'early-80s hi-fi equipment.'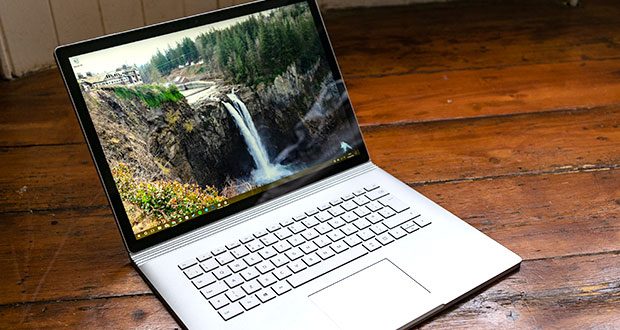 The stark metal (magnesium, specifically – very light though easily damaged) lines and oddball clamshell profile of the Surface Book 2 thus appealed deeply, though in practice it looks slightly more, well, boring than I'd hoped. The metal doesn't gleam, and the boxiness doesn't quite manage the aspirational quality of a Macbook. It's certainly good-looking, especially in the desperately dull and plasticky world of laptops, but if you put it and Apple's rival on a table, most people will gravitate towards the latter. The side holes at its rear, where its powerful hinge-claw cannot flatten any further, will also divide responses between a striking design flourish and it looking like an unsightly, dust-collecting gap.
Until, that is, you press a button, wait a moment til you hear the 'click', and then lift the screen away from the base, transforming the Surface Book 2 into an enormous but astonishingly light and comfortable tablet. It looks absurd initially, but in practice it's a glorious sofa or bed reading device when it's in portrait orientation. In my near-month of owning the Surface Book 2, not a day has gone by that I haven't used it that way. The battery life in this mode is quite short – around 3 hours – as it doesn't enjoy the larger secondary battery in the base, but even so it's put the last nails in the coffin of my old iPad Mini 2.
In terms of gaming, in tablet mode it's no longer attached to the GTX 1060 and instead uses integrated Intel graphics. You might manage some minimum settings 720p 3D gaming on this, and it works well for any 2D stuff that supports touchscreens (the likes of Into The Breach work with the scandalously not-included £90 pen – I kept my Surface Pro 3 one), but really, why would you when you could just plug it into the base?
Next page: Gaming performance, power, display & conclusions