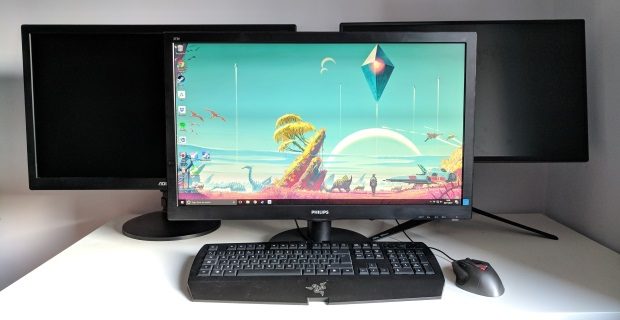 Your monitor is one of the most important parts of your PC, so finding the best monitor to suit your needs and budget is vital. Trying to buy one in a shop, however, can be an absolute nightmare, as you'll often find dozens of screens costing anything from £70 right up to £1500. The range of models and prices can be overwhelming, but this guide is here to help.
We'll take you through everything you need to know about screen sizes, resolutions, refresh rates, panel types, inputs and adjustable stands, as well as provide a few recommendations of our own based on our own testing. By the time you're done here, you'll be fully equipped to find the best monitor for you. Let's begin!
Below, we've got a list of our current best monitors, ranging from entry-level displays all the way up to fancy, high-refresh rate mega monitors. We'll be adding more monitors to this list as we get more in for testing, but if you'd rather skip straight to our monitor buying guide, hop on over to page two at the bottom of the page.
Best budget 24in monitor: AOC G2460PF
Key features: 24in, 1920×1080, TN, 144Hz, AMD FreeSync
This 24in gaming monitor was a steal when it was just £170 over Black Friday, but even at its more regular price of £215, this is still an outstanding 24in display. Image quality is superb for a TN monitor, and its high 144Hz refresh rate and AMD FreeSync support help make games appear smoother and less juddery to play. It's also got a full suit of inputs (VGA, DVI-D, HDMI and DP), a four-port USB hub and a flexible, height adjustable stand.
Read our full AOC G2460PF review.
Buy now from Amazon UK or Newegg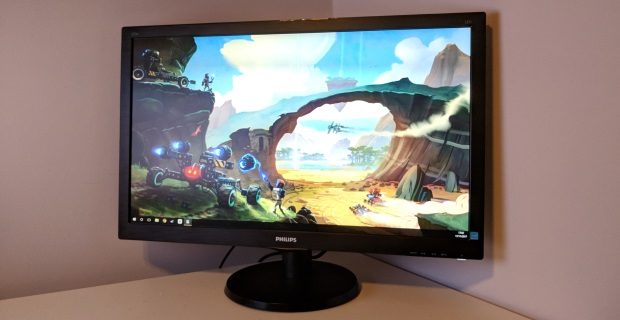 Best budget 27in monitor: Philips 273V5LHAB
Key features: 27in, 1920×1080, TN
The Philips 273V5LHAB is a pretty straightforward 27in Full HD monitor. While its resolution of 1920×1080 isn't ideal for a screen this size, you certainly can't argue with its price. At just £150, this is an excellent way to get a big screen without spending an arm and a leg on something like our current favourite 27in monitor, the MSI Optix MPG27CQ (below). Image quality is also excellent for a TN panel, and you're unlikely to find a better-looking screen for less.
Read our full Philips 273V5LHAB review.
Buy now from Amazon UK or Newegg
Best 27in monitor: MSI Optix MPG27CQ
Key features: 27in, 2560×1440, VA, 144Hz, AMD FreeSync
The MSI Optix MPG27CQ replaces the Acer XF270HUA as our new favourite 27in 2560×1440 monitor. Mostly because it's a fraction cheaper at £435 in the UK and $450 in the US, but it's also got an outstanding VA panel, offers plenty of adjustments in both the stand and its various picture options, and it's also got added RGB integration for Steelseries fans. If all that wasn't enough, it's also got a 144Hz refresh rate and AMD FreeSync support.
Read our full MSI Optix MPG27CQ review.
Buy now from Debenhams UK or Amazon US
Best ultrawide monitor: Philips 349X7FJEW
Key features: 34in, 3440×1440, VA, 100Hz, AMD FreeSync
In my quest to find the perfect monitor for playing Final Fantasy XII on in a silly 21:9 aspect ratio (because why not, when the support's there?), the Philips 349X7FJEW is the one that ticks the most boxes for me. While I'm not a huge fan of its white chassis, it is the cheapest 21:9 monitor by some margin these days, as most of the others have to pay the dreaded G-Sync tax. The Philips, on the other hand, has FreeSync support instead, and is still a fantastic monitor with excellent image quality.
Read our full Philips 349X7FJEW review.
Buy now from Amazon UK or Amazon US
Best HDR monitor: Samsung CHG90
Key features: 49in, 3840×1080, VA, 144Hz, AMD FreeSync 2
This ludicrously wide monitor could easily be our top choice in the best ultrawide category as well, but what really sets the Samsung CHG90 apart is its fantastic implementation of HDR, which is easily the best I've seen outside the realms of TVs. This is thanks to its FreeSync 2 support (sorry Nvidia graphics card owners) and built-in local dimming zones, which allows smaller parts of the screen to shine more brightly without affecting the rest of the image around it.
The CHG90 may only have a resolution of 3840×1080, but this preposterously long display is essentially two 27in 1920×1080 monitors in one, giving you plenty of space for work and games alike. It costs an absolute fortune, but if you're after the best HDR PC gaming can offer, the CHG90 won't disappoint.
Read our full Samsung CHG90 review.
Buy now from Ebuyer / Samsung US
Best budget 4K monitor: BenQ EL2870U
Key features: 28in, 3480×2160, TN, 60Hz, AMD FreeSync
The BenQ EL2870U is by no means the best 4K HDR monitor out there, but it is one of the cheapest, which makes its rather underwhelming HDR a bit more forgivable. Indeed, getting your hands on any kind of 4K HDR monitor these days is a bit of a challenge, but if you really can't wait for something better to come along or don't have the cash to splash out on something a bit fancier, then the EL2870U is currently your best bet.
Read our full BenQ EL2870U review.
Buy now from Amazon UK or Amazon US