Fallout 76 CAMP: taking over workshops, essential buildings
Appalachia may not be at its best in Fallout 76, but it is still a lovely place to pitch a tent and get some much needed sleep. Your handy tool for all your building needs is the "C.A.M.P." or the "Construction and Assembly Mobile Platform", which allows you to make your base of operations, as long as it's on a flat surface and not anywhere near established buildings. This guide will show you how to move your CAMP in a time of crisis, as well as the essential buildings you should make to get started.
Fallout 76 CAMP guide
Those looking for a beginner's guide to get started with the Fallout 76 beta and indeed the full game when it comes out should have a look at our Fallout 76 guide. Building stuff has a far bigger emphasis compared to Fallout 4, mainly because you now need to defend its contents from other players.
Essential buildings
To set up and move your CAMP, you just need to open up the inventory and press the corresponding button. You'll then see in the game's world a zone to plonk your CAMP down, though you can only place it on semi-flat surfaces that are nowhere near established buildings.
Once you've built your camp, you'll need to build stuff around it. First things first, you will need to set up a Vault-Tec storage box to place your stuff in. This will allow you to get rid of your junk, as well as any weapons and items you do not wish to use. It's also ideal to build a campfire, and any crafting benches to allow you to create new items, as well as repair or modify weapons and armour.
Note that in order to make things, you'll need the corresponding recipe. You get a fair few for simply starting the game, but there are some early quests that introduce you to some of the game's concepts that reward you with more recipes. You can also make stuff by finding recipes elsewhere in the region of Appalachia.
How to move your CAMP
Once you do place your CAMP, it will be placed on the map and will be able to be fast-travelled to for no cost. Sometimes though it may be very far from where you want to be, so you may need to relocate your camp. To counter the fact that fast-travelling to your CAMP is free, while almost everywhere else requires caps to fast-travel to, you will need to pay a small amount of caps to relocate it.
Aside from just inconvenience, you may find that upping sticks and moving house may be tediously inevitable, thanks to a vindictive player who has launched a nuclear bomb on your camp's position. Find out how to get even in our Fallout 76 nukes guide. Blueprints that you have deployed will allow you to fully re-establish your camp, so the cost of upping sticks and moving your base of operations is nominal at best, but if you want to ensure that you have the most convenient of spots, it may be worth making a note of the best places to plonk down your CAMP for you.
Gathering raw materials quickly
Since Appalachia is absolutely covered in junk, it can be rather beneficial to invest some time into picking up random items until your inventory is maxed out. Being over-encumbered means that your AP goes down when you walk normally in a similar vein to how sprinting works. When the AP runs out, you'll then walk really slowly, but it can be restored by standing still.
So what should you keep an eye out for when looting. Wood is perhaps the most useful material you can gather and it is found everywhere in The Forest region, but is relatively common elsewhere. You'll also find a lot of random tat in the thousands of lockers, dressers, tables, and every other storage container in the game. Then it's just a simple case of either fast-travelling back to camp with a crafting table to scrap all the junk items and then store it in the storage box.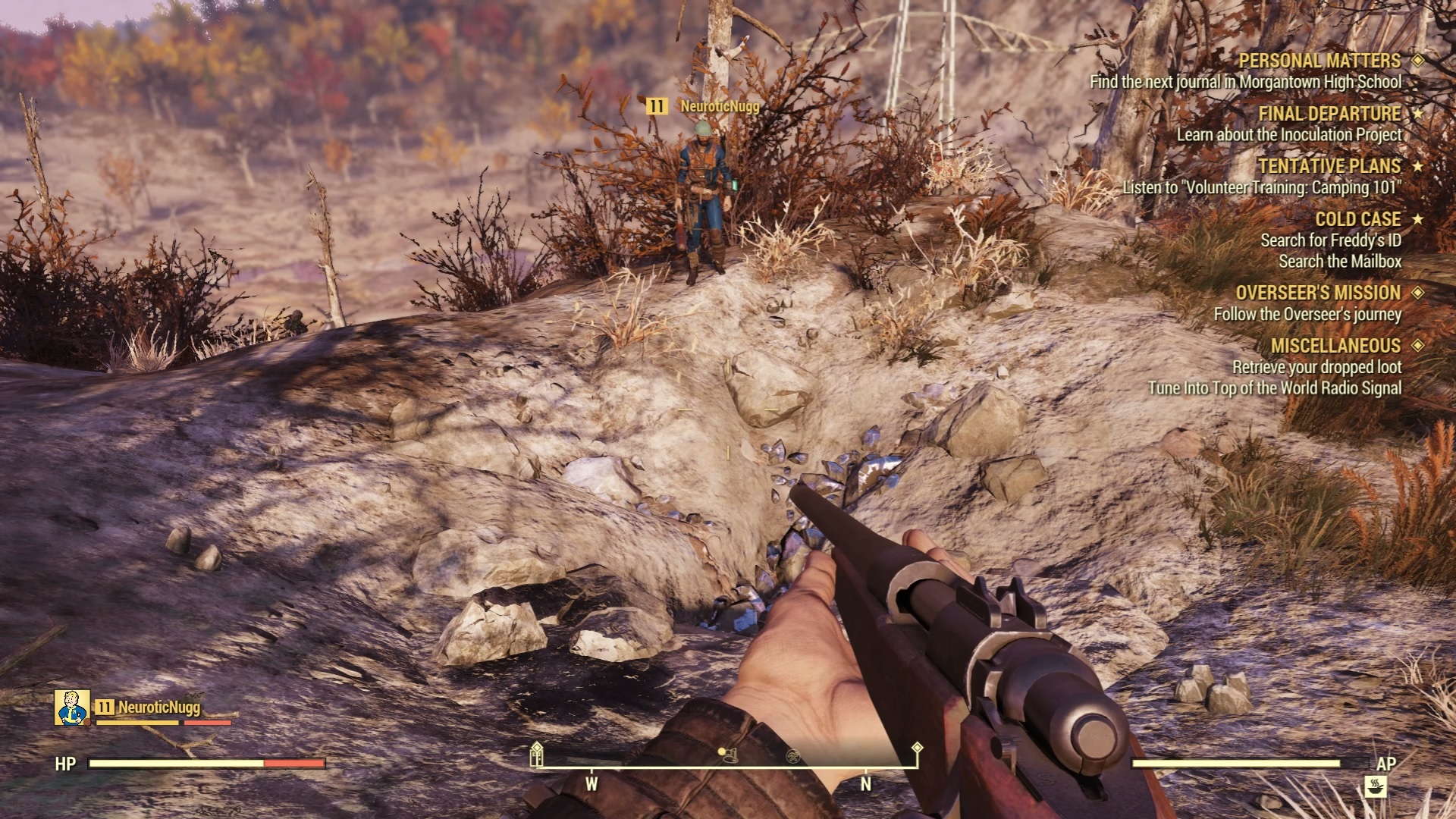 Drill spots
In certain areas of Appalachia, you may come across craters with some stuff in them. You can normally pick up the ores and crystals found within, but with the art of building you can excavate even more by building drills to mine out the resources. This does come with a few drawbacks however. Drills are noisy things and thus attract a lot of attention. You'll need to therefore build sufficient defences to protect them, such as turrets. The drill spots that I have found so far have been around the Hemlock Holes Maintenance workshop and can include materials such as Raw Crystals, Gold Ore, and Iron Ore.
Workshops
Dotted around the land are workshops that can be taken over in order to build a separate base of operations. In order to take over a workshop, you'll need to kill all the enemies in the local vicinity. Some will be the normal enemies in the game, but you may find you also need to deal with other players vying for control of the workshop. Once you've done so, you can spent around 25 caps to begin the takeover process. You'll need to stay in the area to take it over, but once you've done so, you'll be able to build on the land as if you've deployed a CAMP.
One thing that should definitely be taken into account is that everything that is build with workshops doesn't use your own personal stash of resources. Instead, there is more of a collective pool of stuff that can be used to make all sorts of items like crafting tables, drills for any nearby holes, and defences to protect your workshop from enemies and other players. The idea is that since workshops can be taken over, the stuff you make from them shouldn't impact your personal stash.
That's all we have on building thus far, but do check back later when . In the meantime, you may wish to know more about other changes, such as how certain valuable collectable items work in our Fallout 76 bobblehead & magazines guide. Otherwise you can look at our Fallout 76 treasure maps guide for the locations of the various treasure in Appalachia that can yield valuable plans.