9
Apex Legends loadout guide: best weapon combos, popular loadouts, tips and tricks
Sorting your Peacekeepers from your Carbines
Key to victory in Respawn Entertainment's colossally popular battle royale Apex Legends is choosing the right weapons for the task. You can only hold two guns at any time, so you have to make sure your choices not only suit your playstyle but also synergise well with one another.
Our Apex Legends loadout guide will walk you through how to make good choices while picking your weapons over the course of a match, as well as highlighting some of the most powerful and popular weapon combos currently being used at the highest levels of play throughout Apex Legends.
For a more general overview of Apex Legends and everything it does differently from its competitors, take a look at our Apex Legends guide. You'll also find links there to all the other pages in our Apex Legends guides series, from detailed stats and spray patterns on all the Apex Legends weapons to finding the best loot and the best places to land in our Apex Legends map and locations guide.
Apex Legends loadout guide
Guide Contents
At the beginning of every match in Apex Legends, you start with nothing and must quickly gather up as much nearby loot as possible, from weapons and attachments to armour and healing items. As time goes on you'll find more weapons scattered around and must begin to choose whether to abandon your current setup or stick to it. And to make these decisions properly, you need to be able to evaluate your situation and your own personal style of play.
It's also worth factoring in your available attachments. Whenever you hover your cursor over a weapon on the ground, Apex Legends' UI will tell you which of your attachments from your inventory or your current gun will fit into that weapon. For example, if you have a fully kitted out Peacekeeper, you might want to think twice before swapping it out for an attachment-bereft Devotion.

Picking your weapon loadouts in Apex Legends
As a general rule, you'll want to adopt a loadout which allows you to fight at any range. Certain guns are excellent at close quarters combat but terrible at range. Others are amazing over longer distances but impractical at short range. A few lucky weapons are pretty great over any distance. Take a look at the below table and you'll see I've sorted all the guns in Apex Legends based on their effective ranges (otherwise, they are not in any particular order).
Note: an arrow means the gun to the left of the arrow is effective at more than one distance.
| Close Range | Mid Range | Long Range | Terrible, Don't Use |
| --- | --- | --- | --- |
| R-301 Carbine | <-- | <-- | Mozambique |
| Mastiff Shotgun | Flatline | Kraber .50 CAL | P2020 |
| Peacekeeper | Prowler | Longbow | |
| EVA-8 Auto | Triple Take | <-- | |
| R-99 | G7 Scout | <-- | |
| Wingman | <-- | <-- | |
| RE 45 Auto | Hemlok | <-- | |
| Devotion | <-- | | |
| Spitfire | <-- | | |
| Alternator | <-- | | |
As you can see, certain guns – such as the R-301 Carbine or the Wingman – are effective at pretty much any distance, whereas other guns, such as the Peacekeeper, excel at damage over a certain range. You can use this table to decide whether your current loadout gives you the ability to deal with threats across all distances, and to isolate any gaps in your damage-dealing arsenal.
Apex Legends best loadouts – most powerful weapon combos
Now let's take a look at some of the most popular weapon combos currently in Apex Legends which you're likely to see heading into the end-game of each match. There is of course a degree of customisation to all of the below loadouts (you can switch out a Peacekeeper for a Mastiff, for example, or a Devotion for a Spitfire) but they give you an idea of the loadouts to look out for.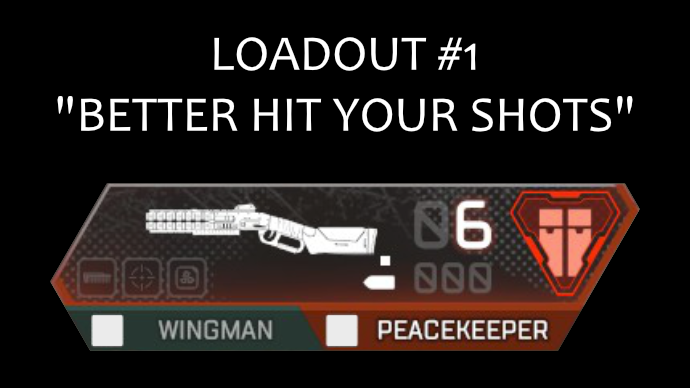 1: Wingman/Peacekeeper ("Better Hit Your Shots")
This is an extremely precision- and aim-dependent loadout which is popular with streamers and top-tier players who have no trouble with their flick-shots and reflexes. The Peacekeeper is one of the best close-range weapons in Apex Legends, and the Wingman packs a punch at medium and long ranges as long as you're accurate enough. But of course, you have no full-auto option, which means you need to make every shot count with this loadout.
If you'd rather a good scope for your long-range weapon, consider substituting your Wingman out for a G7 Scout, which trades a little damage but fires faster and can be equipped with anything from a 3x to a 10x scope.


2: Wingman/Devotion ("Monster DPS")
Swap out the Peacekeeper for a Devotion LMG, and you've got an extraordinarily DPS-heavy loadout which not only covers every range but also gives you both a full-auto and a single-shot option. The Devotion, once firing at maximum speed, has the highest DPS and the highest mag size of any full-auto gun in Apex Legends. Equip it with a Turbocharger Hop-Up and a smattering of other attachments, and there's pretty much nothing that can out-burst you at close range.
The general strategy here is to open with your Wingman, deal some quick damage at range, then quickly close the gap and finish them off with your Devotion. For this reason, Legends that can close gaps quickly, such as Pathfinder, Wraith and Bloodhound, are particularly well-suited for this weapon combo.


3: R-301 Carbine/Longbow ("Sharpshooter")
The Carbine is currently the best Assault Rifle in Apex Legends, and can shred at close and medium ranges. It can also be used at longer ranges with its single-shot option, but it's obviously not as effective as a good sniper rifle.
So the logical conclusion is to pair it with a good sniper rifle! We've chosen the Longbow DMR, which is arguably the best long-range gun in the game apart from the Supply Drop-exclusive Kraber. Excellent damage, particularly when you get a headshot with the Skullpiercer Hop-Up; and you can still fire fairly quickly for a sniper rifle. If you want more flexibility at range you can substitute it for a Scout for a faster rate of fire.


4: R-301 Carbine/Devotion ("Bullets For Days")
Going full-auto with both your weapons gives you an unrivalled ability to suppress enemy fire and is useful for sustained damage against things such as Gibraltar's shields. The Devotion, as we've already discussed, is a fantastically powerful weapon at close and medium range, while the R-301 Carbine is a powerful and accurate Assault Rifle that can handle the longer ranges as well as providing further firepower over closer distances if need be.
The R-301 also makes up for the Devotion's one drawback, which is its response time. Due to having to spin up the barrel, the Devotion is not best suited for quick firing. But the R-301 can deal with these quickfire moments very admirably, so just remember to use both weapons the ways they are meant to be used.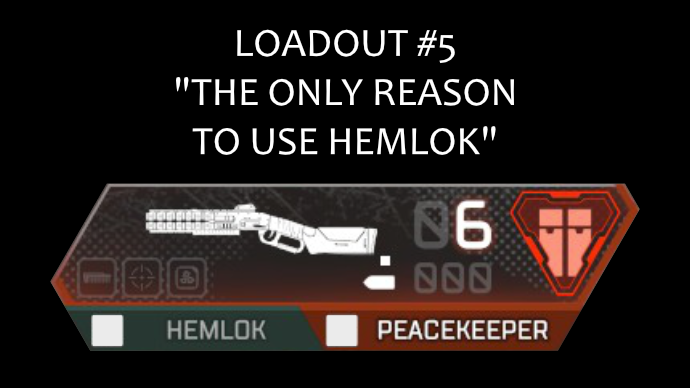 5: Hemlok/Peacekeeper ("The Only Reason To Use Hemlok")
I'm not the biggest fan or the Hemlok, particularly compared to the other Assault Rifles, but if you're going to use any Assault Rifle purely at long range in single-shot mode, you might as well make it the Hemlok, because it deals the most damage with each shot. Use single-shot Hemlok for longe range, burst-shot Hemlok for mid-range, and the Peacekeeper for close range.
If you want a little help with medium ranges you could swap out your Peacekeeper for a full-auto close range option such as the R-99 SMG or one of the LMGs, which will offer you a full-auto mode for medium-range encounters.


6: Spitfire/EVA-8 Auto ("Beginner-Friendly Loadout")
Now, bear in mind that this is a weapon combo that does not have a long-range option, so you'll have to communicate with your team and make sure that one of them is carrying a Longbow or other long-range option before you commit to this loadout. While not the most effective for eliminating players, both weapons are very beginner-friendly and allow you to deal decent damage at close quarters and medium ranges.
The Spitfire is used here instead of the Devotion because it has no wind-up time, and its spray pattern means it becomes more accurate and stable the longer you fire with it. Meanwhile, the EVA-8 Auto is a much more forgiving shotgun than the Peacekeeper, allowing you to fire much faster and get in more hits – useful for those who are not confident that they can land all their shots with the Peacekeeper.
Those are the main candidates for the most popular loadouts in Apex Legends so far. But keep checking back here, because everyone's still learning this brand new game and the weapon combo meta has yet to settle, so we're bound to see some more interesting and experimental loadouts as time goes on.