64
The 10 best games like Dark Souls
In honour of His Souliness
Developer: FromSoftware
Publisher: Activision
Hang on! That's cheating! Oh, I see. It doesn't have "Souls" in the title. Sekiro is a souls game only insofar as it is made by FromSoftware. And even though it includes basically everything that makes those masochistic adventures worthwhile, it still gets a place on this list for being significantly different. For example, the multiplayer bits of the soulsies are nowhere to be seen in this trip to a warring Edo Japan. You can't summon pals or get invaded by nasty men with giant hammers. On top of that, the classic RPG levelling screens are replaced by a cleaner skill tree, which unlocks special abilities for a bony prosthetic ninja arm (eg. a giant steel umbrella, a gun that shoots money). Hell, you don't even get to equip a new sword, you only use the blade you're given at the start.
But what a blade. The fighting in Sekiro is eerily satisfying. Full of parries and leaps and backstabs and twirls, the duels against spear-wielding generals and kimono-wearing samurai masters are far more refined than any simple mace fest in Drangleic and far more brutal. Enemies demand so much discipline, timing and restraint, they may as well be screaming "not my tempo" at you between slashes. And there are some bosses that will make you go absolutely ape (massive spoilers, don't click that, fool).
Notes: Somebody made a boss rush mod for it, which is absolutely terrifying, let's be honest.
Where can I buy it: Steam.
Read more: Our Sekiro review called it "a lethal salsa". And we looked at the 400-year-old ninja manuals which definitely inspired the tools of the game's hero.
What non-soulsy games should I be playing if I like this: Again, Shadow Tactics is a good bet, if you like the setting. But if it's stealthy rooftop navigating and fiery assassinations you're after, you might like fantasy orc-dating sim Middle-earth: Shadow Of War.
Developer: Motion Twin
Publisher: Motion Twin
Genre is stupid, we've established that. When 2D slashfest Dead Cells was first fired down the game tubes at us it was described as a "roguevania" which is almost as disgusting as "soulslike". But here we are, in a list article about soulslikes, admitting that this fiery little monster of a game is somehow all the genres. It's fantasy, it's action, it's soulsy, it's a metroidvania, it's a roguelikelike. Honestly, some games are just greedy.
Greedy for FUN, that is. Dead Cells is a quick sprint through a bright, blood-spattered land full of kamikaze bats and giant lamprey slugs that poop exploding eggs when they die. But instead of intricately designed walkways, this goes for randomly generated warpaths, creating new levels with every death, full of different weapons to find and skills to equip. One run sees you whipping everything in the back of the head and throwing daggers at distant pirates, until you die from an errant cannonball. The next sees you slapping away rapier strikes with a shield and throwing down flamethrower turrets to watch your back. It's a speedy slicer of constant change. In souls games, you often get fixated on one character build that works. But in this dungeonworld you've got to dodge-roll with the punches, and carefully choose among the tools you're given to make something work. Oh look, a "cursed" sword. I wonder what it does.
Notes: The creators Motion Twin are run as a co-op studio, meaning in theory everyone gets equal pay. You could call that … Dark Soulscialism. (I stole this joke).
Where can I buy it: Steam, GOG, Microsoft Store, Humble.
Read more: Our Dead Cells review said: "the verbs 'hack' and 'slash' have rarely been put to better use." Alec also wrote about the things he wish he'd known before going in. It was also our favourite PC game of 2017.
What non-soulsy games should I be playing if I like this: Any other roguelite. The RPS treehouse has plenty of Binding Of Isaac devotees if grim-funny psychoanalytical mum-killing is your bag. Cave-sploring dasher Spelunky is always a good shout. SteamWorld Dig 2 is no roguelike but it's a solid metroidvania if you want something brighter with a touch of story.
Developer: Team Cherry
Publisher: Team Cherry
Hollow Knight is big. Bigger than that giant spider on your neck. You play a buggy cartographer, mapping the netherlands beneath a gloomy village of fellow insects (and you're not the only one). You scuttle downward, nail in hand, slicing at baddies until you hit the first real boss. An absolute scumbag with a mace bigger than your head, and a lethal bum slam to go with it. Finally, you crack open his carapace with the meagre movements currently at your disposal – a jump button and a slash. But this is only the tip of the termite mound. Here's a map of the first area. And here's a map of the full game. It isn't long before you realise, this is a game about terra incognita, about filling blank space with knowledge.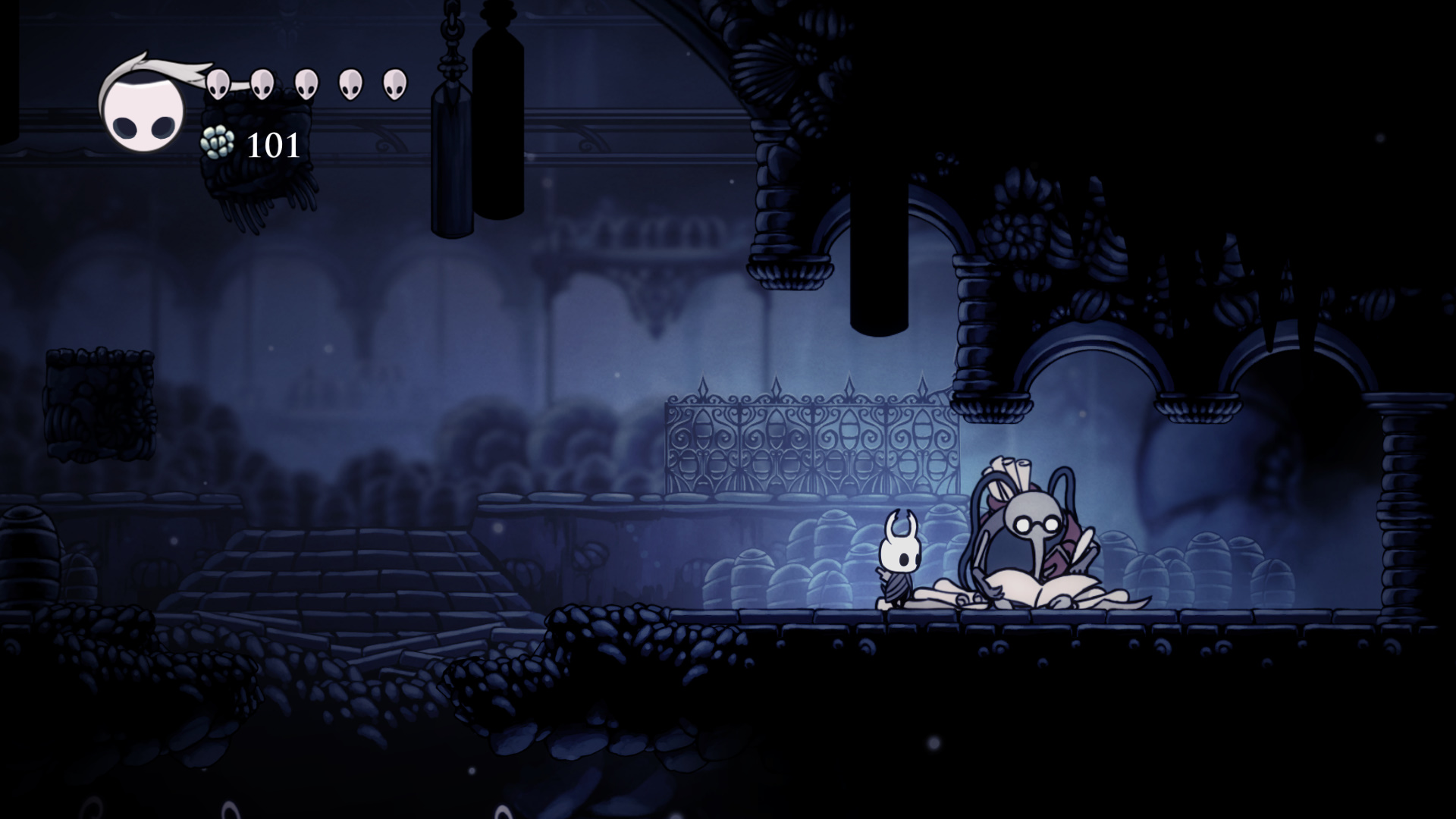 Your journey through the subterranean landscape of Hallownest has all the established quirks of this filthy newborn soulgenre. When you die, you drop a bunch of deathcash, and have to return to the point of doom to retrieve it (the twist here is that you have to kill a little ghost to get it back). It's got tough-as-jerky bosses, and punishing rooms full of cheeky invertebrates. And it has that characteristically obtuse storytelling, delivered with some classic cryptosouls lore peppering. A chuckling miner sings a song and chips away at rock as you pass, ancient signs tell of a desolated undercity, and a map-obsessed explorer says hello time and again, as you travel in eerie parallel. These characters and discoveries explain piecemeal things about the glum arthropod world, but a full picture isn't exactly forthcoming. Imagine if Tim Burton had written a script for Antz, but David Lynch was hired to direct and 90% of the sense was left to rust on post-production hard drives.
So yes, Hollow Knight conforms to all the dogma of His Souliness. But then it stuffs all that into the twitchy jaws of a Castlevania-style action platformer, where you unlock new powers to reveal new areas. A glowbug companion who can light your way through a blackout cavern, a ground-slam that breaks through loose stones. And while that secret-hiding stonework might be shaky, everything else is rock soild. You've got your precision platforming controls, your floaty jump that lets you about-face in mid-air, your clingy wall-hopping. It's all here, resulting in some positively Meat Boy moments as you bound through caves full of spikes and shifting walls.
If this "best of" list was about platformers, it's possible this colour-drained puncher-upper would still be riding high. Likewise if this was a list about metroidvanias. And that's this little nail-swinging beetle's real triumph. It bestrides multiple genres. Like a giant radioactive ant from one of those 1950s B-movies, Hollow Knight looks like it should be tiny, but it's not. It's big.
Notes: The creators, Team Cherry, have added a bunch of sizeable updates since its release, essentially funnelling four free barrels of DLC down the holes of this grand hive of a game. And there is a sequel in the making, Hollow Knight: Silksong, where you will play the speedy princess bug Hornet, a mysterious character from the first game.
Where can I buy it: Steam, GOG, Humble.
Read more: Alex Wiltshire dived into the artwork of Hallownest's creepy crawly citizens. John didn't rate it very highly in our Hollow Knight review, but he's gone now, which makes his opinion void. RPS in Peace, John.
What non-soulsy games should I be playing if I like this: Ori And The Blind Forest is a brighter bounce-around and Guacamelee 2 is another metroidvania with more than a handful of colours. Or go for Celeste if you want platforming magic and challenge, but with easy options.
Thank you for reading our big list about soulslikes, even though we all know that's a stupid name to give to a vaporous pattern of commonalities across the gameosphere. Well done for restraining your rage on this matter. I'm proud of you.
Please don't use the comments to unleash that futile, pent-up rage which, don't worry, we all feel in our bones. Instead, use the comments to make your own recommendations to fellow readers. You don't need to call it a soulslike, don't worry. Call them: "games you might like if you loved dying at the hands of Ornstein and Smough". Or "games you might like if you got a thrill gingerly stepping forward through Blighttown". Or "games you might like if you feel happy not knowing where the hell to go next".
Recommendations, people. That's what we like here. Be good to each other. Be a gentle soul, not a dark one.