150
The best RPGs to play on PC
Level up
5. Dragon Age: Origins
It once seemed like the epic RPG might have been finished. The Witcher had come out two years previously, but was divisive and didn't manage the scale of a Baldur's Gate. And while Dragon Age had been known about for years, and was in development for more (perhaps even more than a decade), expectations were dampened by a bad marketing campaign (what on earth did Marilyn Manson have to do with the Darkspawn?) and a ludicrous emphasis on its far poorer console port. So when one of the best RPGs of the 21st century was released, it was perhaps something of a surprise.
Despite following a very traditional structure (visit four different enormous regions, building up to a climactic battle), the overwhelming volume of history, lore, culture and conflict that was in place from the very start let Dragon Age define itself as a massive new world. Stepping away from D&D, it was all BioWare's creation. With six different openings, each providing a significant insight into the varying races and cultures and their fraught co-existence, there was this incredible sense of place, and of a place in time. The story of which you were a part – the re-rise of an ancient army of specialist warriors, the Grey Wardens, in response to the return of Darkspawn to the lands of Thedas – began a thousand years ago, and stretches wide around you.
This was combined with a superb real-time combat system, where you could pause at any time and give orders to your party, or even pre-program their AI to behave in ways useful to you. BioWare's incredible ability to write fleshed out, memorable companions was in full effect, among them the marvellous Alistair, troubling Morrigan, and really peculiar Leliana. Oh, and the officious Sten, and hilarious stone golem Shale. At over 100 hours long, each location is enormous, packed with quests, and bursting with character. Looking back on Origins is like remembering a year of your life, those weeks you spent under the Frostback Mountains, the political machinations of your time in Denerim, visiting the rebellious elves in the Dales. Or remembering the horror of the elven slavery at the hands of the Tevinter Imperium, or the disturbing treatment of magic users by the religious rules in the Chantry. Or simply camping under the stars with your friends, listening to a song from Leliana, and maybe having a flirt with Zevran.
Its enormity never feels like filler (well, maybe it does in The Fade), and its scale is justified by quite so much to do, change, or meddle with. Its characters feel like friends, its battles like something that genuinely mattered. Dragon Age: Origins is an extraordinary creation, unmatched since in terms of its meticulously detailed vastness. Although, bloody hell, Oghren was a dick.
Where can I buy it: Steam, Origin.
What else should I be playing if I like this: Dragon Age: Inquisition has proved a touch divisive, but give it a look. You'd also do well to play The Witcher 3, and the mighty Pillars Of Eternity. But go backward too, and check out Neverwinter Nights 2, and both Baldur's Gates.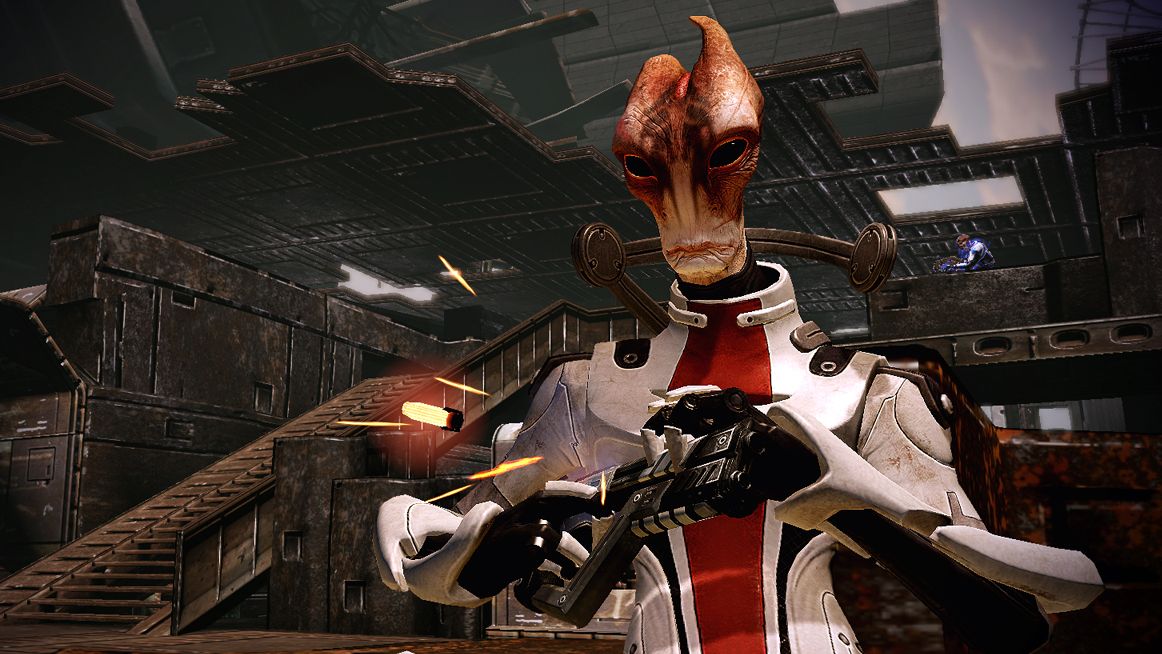 4. Mass Effect 2
Were this a Guns 'n' Conversation list, the middle act of Bioware's sci-fi trilogy would surely be atop it. Yes, much of what purists consider an RPG to be has been excised in favour of direct action and on-the-spot decision-making, but in terms of spirit, playing a roving space captain trying to restore peace to the galaxy one planet at a time and in her own sweet time has never been bettered. Mass Effect 1 didn't quite know what to be and Mass Effect 3 was a victim of the need to resolve dozens of dangling story threads, but 2 has focus, a meaningful sense of behavioural choice and, most of all, momentum. It all culminates in one of the most thrilling and potentially tragic third acts in recent memory. Mass Effect 2 also boasts what might just be roleplaying's finest musical moment. I am the very model of a scientist salarian indeed.
Where can I buy it: Steam or Origin.
What else should I be playing if I like this: Obisidan's wonky but appealing Alpha Protocol has much in common with Mass Effect, but goes for a secret agent theme rather than alterna-Star Wars. The Witcher 3 also offers arguably superior behavioural roleplaying.
3. The Witcher 3: Wild Hunt
What astounds most about The Witcher 3 is how human it can be. Where other RPG epics often lose their character's humanity among the fantasy heroics, Geralt and his friends continually draw the focus back down to earth. In the quiet (non-sexy) moments when they're alone between quests, and the playful banter as old friends reunite, you slowly realise how much you enjoy spending time with these people. That's still too rare, even among other well-written RPGs.
Not all the time, but there is a great deal of humanity scattered across The Witcher's vast and beautiful dark fantasy land, too. People's stories, their sadness, their requests that are not brazenly shouted from the rooftops, their moving gratitude for your help, and the small dilemmas and consequences you'll face as you go. In terms of being a roleplaying game, The Witcher 3 absolutely masters the wandering adventurer fantasy. The creators of the mechanical populations in Elder Scrolls and Fallout should regard it with some anxiety.
A lot of parts of The Witcher 3 could be described as best-in-class, in fact. It's also one of the most beautiful worlds of any game on this list. Ride your horse out towards some swamps at any time of day and just enjoy the wind, the sky, the sounds. Combat – which is better than previous iterations but still a bit clunky – is a frustration mainly because it gets in the way of your ability to just be. Thankfully there's always another person to play Gwent with at your next destination
Where can I buy it: Retail, Steam or GOG.
What else should I be playing if I like this: Skyrim if you want a similarly epic RPG with a more open skill tree and character customisation. Dragon Age Inquisition if you want more in-your-face-plot and endless herb collection.
2. Dark Souls
Discussions and declarations about the difficulty of Dark Souls tend to undermine the discussions and declarations that we should be having about the quality of Dark Souls. Let's get the difficulty out of the way. Dark Souls isn't the most challenging game on this list. It's not the game that will kill you the most (hello, roguelikes) and it isn't truly unfair. It's a game that understands the value and incline of a decent learning curve and its central rhythm of progress, death and repetition, teaches rather than tortures.
If it's not the most punishing RPG ever made, then what is it? Among other things, the Souls games are an intimidatingly assured re-invention of dungeon crawling and, in fact, the entire concept of dungeons in RPGs. Everything from enemy placement to the twisted lay of the land contributes to the challenge of the game, as well as adding to the lore that is stitched into the fabric of the world. The combat is exemplary, combining inch-perfect animations, timings and agonising tension to make every encounter memorable. Stats are almost invisibly woven into the build of your character, whose abilities and proficiencies are recognisable at a glance, and whose behaviours you'll adopt and modify as you go, creating and fussing at the role you're playing without the need for dialogue or morality meters. There are details as well as broad strokes, for those who choose to pick at them and those details are devilishly satisfying. Pyromancy or miracles? A ring of sacrifice or the Lion ring? The correct answer lies in your twisted gut.
It's a mark of the game's quality not only that completing a single playthrough feels like a great achievement, but also that there are people who continue to play, time after time, and continue to learn. Dark Souls teaches you how to play as you travel through its horrors and mysteries, but it also teaches you how to read games, making you alert to the fact that every texture and scrap of flavour text can contain clues, especially when that flavour is scrawled on the floor by other players. Those clues might save your life, point you toward a diversion or shortcut, or they might help you to understand that there's meaning and history in every part of the world. You just have to look closely. Pay attention and you'll find the choices no character points out, and discover consequences whose warning signs you were keen to overlook, an optimist in a dying world.
Where can I buy it: Get the Remastered edition on Steam.
What else should I be playing if I like this: Dark Souls II is the low point of the series, even if it is much improved in its enhanced Scholar Of The First Sin edition. Go for Dark Souls 3, or a trip to feudal Japan in Sekiro. Or check our list of the best games like Dark Souls.