Apex Legends Mirage guide [Season 5]: Mirage tips and tricks, abilities, hitbox
Bamboozle 2.0!
Mirage, the so-called Holographic Trickster of Apex Legends characters, is perhaps the most satisfying Legend to play as when things go right. When you pull off that perfectly timed bamboozle or distraction with your holographic decoys… Man, it feels great. And now Season 5 has made Mirage's abilities more powerful and practical than ever before. Our Apex Legends Mirage guide will show you how to make the most of Mirage's newly reworked skillset, with a multitude of practical tips and strategies on each one.

To experience this #content, you will need to enable targeting cookies. Yes, we know. Sorry.
Manage cookie settings

Apex Legends Mirage guide – tips, stats, abilities
In the following sections we'll go through Mirage's general playstyle, strengths and weaknesses, before delving into detailed information regarding hitbox sizes and each of his holographic abilities. To skip to any particular section, simply click on its corresponding link below.
Mirage guide overview – character strengths and weaknesses
Mirage is the one-trick-pony-est of one-trick-ponies. All his abilities – his Passive, his Tactical, and his Ultimate – revolve around the use of holographic decoys to confuse and distract enemy players. For this reason, his abilities have often been considered to be the weakest of all the characters in Apex Legends, because they lack utility and versatility; and also because, as time goes on, players learn to recognise Mirage's decoys and you can no longer rely on your enemies being fooled every time.
But Respawn are looking to change that with Season 5. Now, Mirage's decoys mimic his every move, making it much more difficult for enemies to see through his illusions. Time will tell whether this only gives Mirage a season or so of renewed Bamboozle-ness before every cottons on once again to his tricks; or whether this is a permanent buff to Mirage's skillset that will make him a truly viable Apex Legend. But for now, it's a pretty exciting time to be a Mirage player.
Mirage hitbox vs other Legends
The above is a composite of various hitbox images created by YouTuber "SookieSpy", which bring to light the incredible discrepancies in character hitboxes in Apex Legends. Season 1 brought with it some changes to the hitboxes of Gibraltar, Caustic, and Pathfinder to better fit their character models, but the fact remains that Gibraltar is about twice the size of Wraith, and thus, twice as easy to hit.
Nowadays this is addressed with two Passives which are shared among multiple characters; Fortified, for Gibraltar and Caustic, which reduces their incoming damage by 15% and grants them immunity from gunfire slowdown; and Low Profile, which affects Wraith, Pathfinder, Lifeline, and Revenant, and increases their incoming damage by 5%.
Mirage abilities guide
As with all other Apex Legends characters, Mirage has access to three abilities: a Passive, which you benefit from without having to do anything; a Tactical, an activatable ability on short cooldown; and an Ultimate, which is (theoretically) your most powerful activatable ability, which must be charged over time before it can be used. Much like Caustic, Mirage's abilities all make use of the same mechanic: that of generating holographic decoys to bamboozle the enemy. Let's take a closer look at how each ability works.
Passive ability: Now You See Me…

| Name | Description |
| --- | --- |
| Now You See Me... | Automatically cloak when using Respawn Beacons and reviving teammates. |
Mirage's Passive was always the worst ability in Apex Legends, but now it's got some interesting utility depending on how, when, and where it comes into play.
The greatest strength here is the fact that while reviving a teammate, both you and the downed teammate are cloaked. This elevates Mirage to a similar standing to Lifeline when it comes to reviving allies – but it's important to try to break line of sight with this ability, because otherwise it'll be painfully obvious to the enemy where you are, even if you're cloaked.
Bear in mind that the use of Knockdown Shields will seriously impede your ability to hide from the enemy, so this is very much a one-or-the-other situation.
Tactical ability: Psyche Out

| Name | Duration | Cooldown | Description |
| --- | --- | --- | --- |
| Psyche Out | 60s | 15s | Send out a holographic decoy to confuse the enemy. Press the Character Utility Action button to control the decoy. |
With Season 5, Respawn have breathed new life into Mirage's Tactical with the ability to control your decoy after it appears. While controlling the decoy, it will mimic Mirage's every move, making it very difficult to spot the difference between fake and real Mirage without shooting it – which exposes you to the Mirage.
Decoys also now last a very long time – 60 seconds – but you can only have one at a time. If you use Psyche Out again while your previous decoy is still around, the old decoy will disappear as the new one spawns. Even so, this is a very effective scouting tool that any Mirage player should not hesitate to use to discover where an opponent might be hiding or rotating.
Ultimate ability: Life of the Party
| Name | Decoy Count | Charge Time | Description |
| --- | --- | --- | --- |
| Life of the Party | 5 | 60s | Deploy a team of controllable Decoys to distract enemies. |
Mirage's new Ultimate, Life of the Party, is a hell of a trip for enemies. A team of five decoys all moving in exactly the same way as the real Mirage is bound to cause trouble for opponents looking to quickly finish off the Mirage.
While historically thought of as a purely defensive ability, I've found plenty of success using Mirage's Ultimate (and his Tactical, to be honest) to initiate fights. We all know that a good spray can shred your health and ruin a push before it even begins – but that is much less likely to happen if the enemies are preoccupied with the multitude of decoys heading towards you instead of the real Mirage.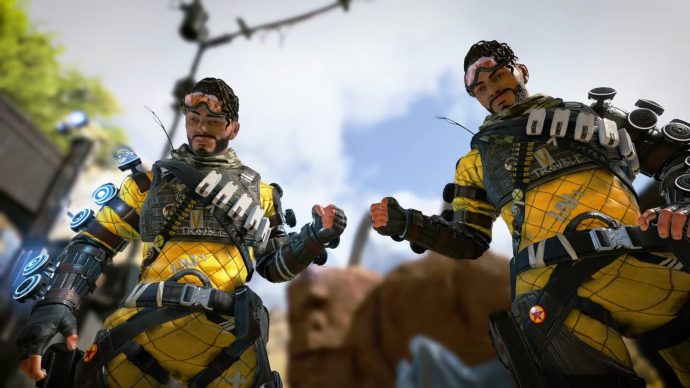 How to play Mirage – top Mirage tips and strategies
Finally, let's finish up with some more general tips and tricks on winning Apex Legends matches as Mirage.
Play aggressively to get the most out of Mirage's abilities. Mirage shines in unexpected ways the moment you abandon your initial impressions of how to play him, and adopt a more aggressive playstyle. Use your Ultimate and/or Tactical to initiate fights, sow confusion, and get up close from unexpected angles to end the fight quickly.
Use your Tactical as much as possible. The good news is that you have lots and lots of these tiny windows, because the cooldown on your Tactical is so low. Use it as often as possible: when healing, when reviving, when initiating, when scouting, when dropping.
---
And that's all we've got for now on the Holographic Trickster that is Mirage in Apex Legends. Hopefully you've learnt a thing or two about how you can use (or augment) his abilities. He may not be the strongest character at the moment, but he's certainly able to hold his own in a teamfight… and who knows what the future might bring?
For full details and opinions on all of the characters together, take a look at our Apex Legends characters guide for everything you need. Alternatively, if you're looking for a focused guide like this one but on a different Legend, then simply take a look at the table below and click on a link to be taken to the hero of your choice.