Bleak Russian Wandering With A Camera In 35MM
Adventures with a pal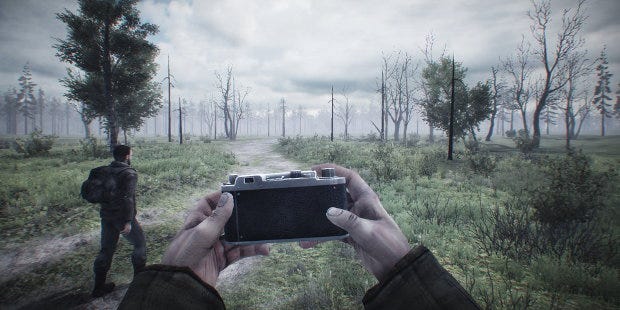 Oh, I'm so glad to hear of a bleak game set in a bleak post-apocalyptic world which isn't a survival game and isn't about simply murdering everything. 35MM sees two friends journeying through an eerie land deserted following an epidemic. A new trailer from Russian creator Sergey Noskov looks eerie and introspective and unsettling and yes, this is a game I would like to play. I'll need to wait until the middle of this year to get my mitts on it, sadly.
Noskov describes 35mm as being "in a quest style with some elements of a shooter", which sounds swell to me. Being with a pal is grand too. Survival games seem to be where a lot of bleakness is channelled nowadays, but I've no interest in surviving for surviving's sake. I stopped playing The Long Dark when my character had a few days' food in a cabin on a frozen lake then uninstalled it, leaving them to die a peaceful death of hypothermia. So let's make it a nice journey, one we're going on with camera in hand. I do like a good video game camera.
He's also behind two games I hadn't heard of until now but already have downloading to check out later, The Light and The Train. Hey, look at this spooky train!
35mm is still a bit of a mystery, but its Steam Greenlight page has screenshots, a few more words, and a second video. Here's the latest:
[Director's commentary: I had intended to start this post with some joke about "reading the Russians" but realised I was ripping off Richard Brautigan. Then it became something about how there's an image of the former Soviet Republics making only bleak games, but then pointing out Russia also gave us Stalin vs. the Martians; it was a sloppy joke. So we get this.]