3D Platformer Recalls GameCube Happyface: A Hat In Time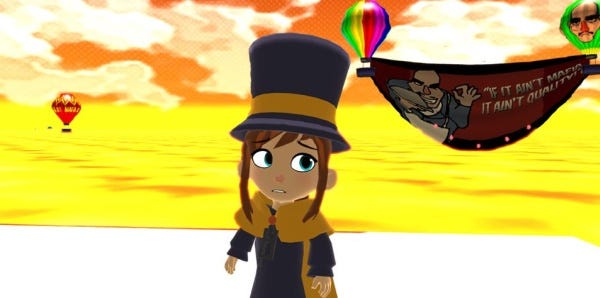 First of all, A Hat In Time is a great name. Second of all, Gears For Breakfast is an excellent name for a developer. Third of all, looking a lot like Zelda: Windwaker and attempting to emulate N64 collect-me-do 3D platformers is the right thing to do. Fourth, fifth and infinityth of all, there's obviously a Kickstarter.
We last heard word about the game back in November, and things seemed to have moved forward apace. The in-game footage is already looking pretty impressive, but they've made this so far in their spare time on a budget of precisely nothing. Now they're after $30,000, and they're well on their way. Gosh, writing this sentence they just leapt up from around $15,500 to $16,100. Take a look at the footage - you'll be impressed.
A copy on release will cost $15, which they're speculating will be some time in February 2014. And they're already in the Greenlight queue to secure a place on Steam. It seems noteworthy that the protagonist and antagonist are both female - Hat Kid and Moustache Girl - which is damned refreshing. Here's a bunch more footage: