7 more games that could use a Geralt of Rivia guest appearance
No rest for the Witcher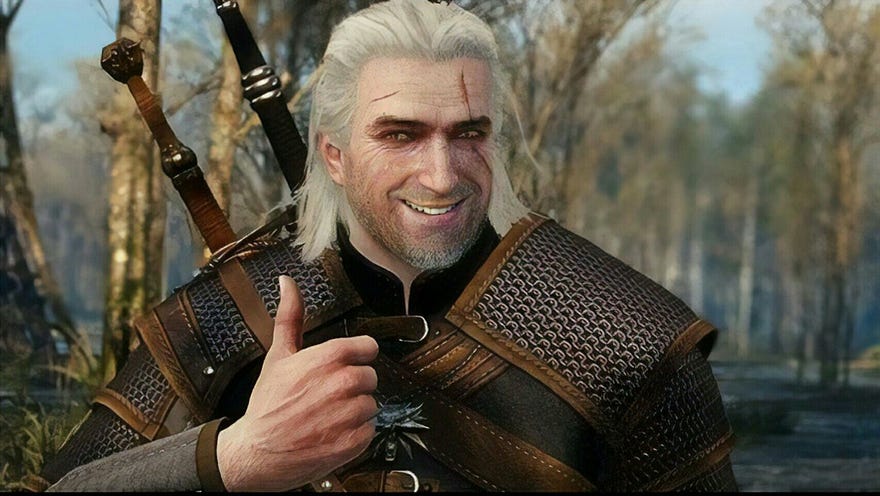 I worry about Geralt. The Witcher series may be over for now, but this hasn't stopped Geralt from taking odd jobs here and there, slaying beasts in Monster Hunter: World, or stabbing folks in Soul Calibur VI. Is Geralt getting adequate retirement benefits? Have witchers unionized yet? I hope he can get some rest, or at least find more contract work that doesn't involve exterminating monsters all the time. Freelancing is tiring.
Here are seven games that need to be blessed by Geralt's presence.
Dream Daddy
A new, surly dad moves to Maple Bay. A dad with two yellow eyes, two swords hanging over the fireplace, and one deadly mission.
You know Damien, the vampire-loving dad? Geralt believes he's a real vampire, and he's here to eliminate him. He even enlisted the help of Joseph, the local youth pastor, to obtain holy crosses and blessed water for the fight. But even the most vicious monster has friends, and Damien has two allies willing to fight for him: Joseph's wife, Mary, and the cryptid-loving Robert. Are the two being charmed by a vampire, or are you the one who has fallen victim of Geralt's delusions? Will you help plan a murder, or will you try to stop it?
Stardew Valley
A white-haired farmer called Geralt moves to Pelican Town, opening a vineyard just outside the village. He and his wife Yennefer are a quiet, hard-working couple, and everyone in the town quickly befriends them. But you know Geralt is hiding a secret. He never talks about his past, but you see him hanging at the Adventurer's Guild all the time. The old monster-hunters seem to respect him. Sometimes, you even glimpse the white-haired figure in the deepest levels of the mine. Perhaps it's just your imagination.
But if that's so, why do you keep finding dead monsters in the mine? And why do the Junimos, the forest spirits, seem to be terrified of Geralt?
Hitman 2
An elusive mission in which you have to infiltrate a comics convention to assassinate a cosplayer. Will you manage to spot your target between dozens of other Geralt lookalikes? You know your target is a professional. He won't be the one with the cheap wig, or the one with the armor made of cardboard. Compare and contrast all the Geralt cosplayers, looking for the most faithful. And pray your target won't be as dangerous as the man he's cosplaying.
Jurassic World Evolution
Okay, hear me out. Jurassic Park is about building a park full of dinosaurs, right? But when you got too many cages full of giant carnivorous lizards, the situation can get out of control. And that's when you call Geralt. Activate 'Park Security mode' and transform your park management sim into an action game. Wander the park as Geralt, and follow the tracks to find the escaped beasts. Stab all the dinosaurs. Assert dominance. Skin the reptiles and use their scales to make souvenirs.
The Atelier Series
Atelier is a long, long JRPG series about killing monsters, mixing potions, and befriending pretty anime girls. Basically The Witcher, but cuter. Let Geralt appear in an Atelier game. A random one. He could be the mysterious foreign teacher and teach the main cast how to stab people. I am sure the cute alchemist girls would adore him.
Limbo
Tired of seeing the shadowy child dying all the time? Activate 'Assistant Mode' and let Geralt guide him through the woods. The Witcher will help the poor child climb platforms, move rocks, and scare away the spear-wielding bad humans. And yes, he will also take care of the giant spider. Actually, can Geralt come to my house to kill spiders as well?
Subnautica
Look, I just wanted to draw half-naked Geralt harpooning a sea monster.
I have no other excuse.
Illustrations and image noodling by Giada Zavarise