A Computer Game: Siamese Enemies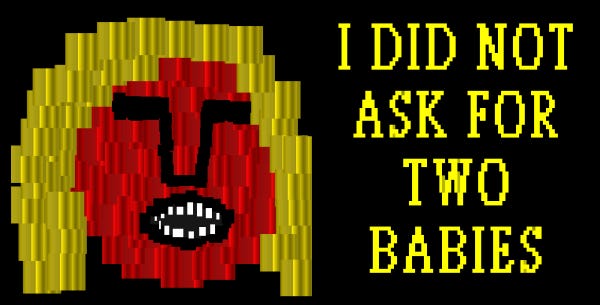 She did not ask for two babies!!
Here is what is happening, there is a computer game Siamese Enemies made by Krimelo. It is a wonderful two player computer game. You and your friend, you are a siamese twin, and you race across a randomised level to the hospital. There, that is when all of the things start to go crazy.

Wait. Where is your mother from?
Okay.
First, there is the race across the level. On the way you collect body parts. Perhaps a kidney, and a heart and a leg. It is easy. Then there is the hospital.
The operation begins! But it is a bad operation, like a fight. You can cut, and you can drag your collected body parts to where they should be in your new body, and you can sew them in place. But what stops you taking body parts from your brother, before he can sew them in? What stops you from cutting parts off of him? Nothing, nothing.
When both players are too tired to continue, the long journey home begins.
As we all know, the mother did not ask for two babies. There can only be one baby. The first brother to make it home, he wins. He wins an existence of motherly love. What for the other brother?
What for the other brother?
Here is where you can download Siamese Enemies.