A longer peek behind the curtain at Two Point Hospital
Will they put the ads for this on the side of a bus?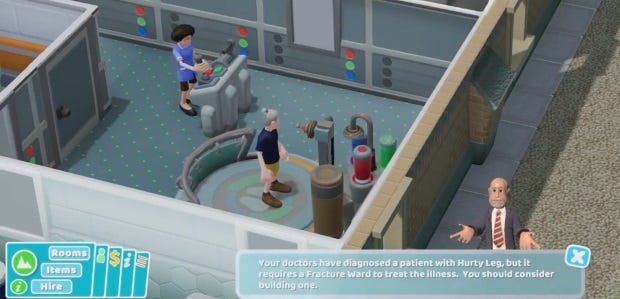 Let's not beat around the bush here: Two Point Hospital is Theme Hospital 2 in all but name, and that's okay, because I miss Theme Hospital and having a polished spiritual successor developed by a team of ex-Lionhead folk who understand exactly what made the original so consistently endearing is an incredibly enticing proposition.
It's still relatively early days for Two Point Hospital, but here's a full eight minutes of developer-narrated gameplay footage, showing the very start of the game, opening up a small-town clinic and treating what ails the locals. Premature mummification seems worryingly common in rural England as of late.
There's a lot of charm here. Not only are the ailments consistently daft (and even those that aren't being cutely named - see the patient suffering from Hurty Leg needing a fracture clinic), but the staff themselves have a lot more overt personality than they did in the original Theme Hospital. One doctor celebrates his own expert usage of the X-Ray machine by hopping into the middle of the room for a little dance.
The quality of the animations is consistently excellent all round. While I do worry that some might get a little bit repetitive, the absurd interactions at the Fluid Analysis lab (including the panicked blood-sampling) stand out as especially great thanks to the interactions between the hospital staff and the patient. Even though the later game could turn into a terrifyingly stressful failure-cascade, Theme Hospital really stood out with its relentless likability, and Two Point Hospital looks to be following well in its footsteps.
Also, I cannot help but notice that your little advisor who pops up to inform you of important developments and what you can do about them looks a little bit like Jeremy Corbyn. Shameless communist propaganda, I tells you. Next thing, they'll be complaining when you charge 'shifty-looking' patients triple.
Two Point Hospital is still a ways off, but you can keep your eye on its development over on the official site here.