A New Perspective: Trine 3 - The Artifacts Of Power
Trine becomes a trilogy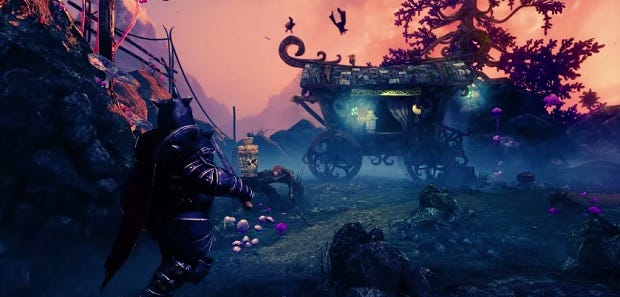 When I'm playing the Trine [official site] games I feel like I'm shuffling around inside beautiful fantasy concept art. It's a little known fact that Louis Armstrong's recording of What A Wonderful World was performed after an all-night cooperative Trine binge and the inspiration is clear (the final verse, however, was a joke about The Sims' squalling infants). I've often wondered how it would feel to step inside the beautiful artwork rather than dashing across it from left to right, and the freshly announced Trine 3 has the answer. Indulge your eyes by watching the trailer below.
Details are thin on the ground but Frozen Byte confirm that, viewpoint manipulation aside, it'll be business as usual for the trio of heroes.
"The Three Heroes embark on a new adventure through an enchanting fairytale world full of wonders, puzzles, dangerous foes and strange magic."
I adored the previous games, even when I found wizardly block-bothering trickier than I probably should have done, so I'll be keeping my eyes peeled for fresh information now that the initial announcement has been made.