A Pulse (Rifle): Colonial Marines Lives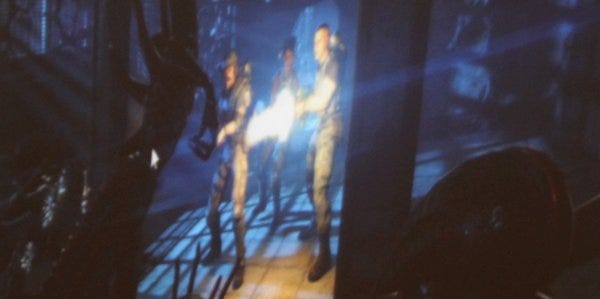 Could these be the worst screenshots ever? Well, no. PCG still talk about the time Kieron handed in a review that included a shot of some sand, with the caption "The game has a lot of sand", and I once sent a review with a shot of the game's loading screen. Also, Kotaku poster Stephen Totilo has an excuse other than laziness- he took these shots during a PAX presentation of Aliens: Colonial Marines where he was sat far to the right. The point of all this is (probably) that Aliens Colonial Marines is still coming out, despite Gearbox "halting" its development two years ago. At the time, Gearbox prez Randy Pitchford said that wasn't the same as cancelling a game. Did you believe him? I can't remember if I did.
Speaking of Aliens, did you hear that Ridley Scott's filming a two-part prequel to Alien in 3D? Kieron mentioned it in the channel earlier. Interesting times, for aliens.