A Wizardry Did It: Deathfire - Ruins Of Nethermore
Night of the Bloodash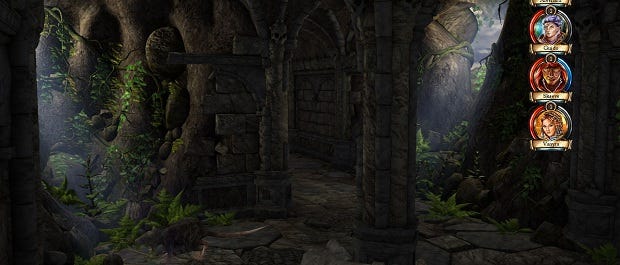 It's hard to believe that there hasn't already been a game called Deathfire. In fact, it's downright unacceptable. I've played enough games to know that death and fire are the key ingredients in 90% of interactive entertainment so the lack of an actual Deathfire game strongly suggests that we have endured decades of false advertising. At least Gunman Chronicles was honest. As for Deathfire, I can't show you a video of a zombie flame or a lich in a furnace because the game is too early in development for fancy trailers. Instead, there are screenshots and very fine they are too. Following in the tile-encompassing footsteps of Legend of Grimrock, Deathfire is first-person role-playing so old-fashioned that it reeks of beeswax and boot polish.
Due to be released in 2014, Deathfire is described thusly:
Feeling somewhat unhappy with the current state of the computer role-playing game industry where open worlds and quest hunts dominate the genre, we felt it was time to take a step back and re-examine what made Golden Era role-playing games such as the "Realms of Arkania" series, the "Wizardry" games or the "Might & Magic" games such memorable and lasting experiences. As a result we came up with a game concept that hearkens back at these classic titles but approaches it with renewed vigor and modern day technology. Doesn't that sound like a game you would want to play?
The development team are led by designer/producer Guido Henkel, whose previous credits include Planescape: Torment, the Realms of Arkania Trilogy and Fallout II.
Deathfire sounds almost exactly like what I'd expect from the description above. It includes four people to a party, lots of classes, races and attributes to choose from, indoor/outdoor environments, and an intelligent dialogue system. Wait, what? Intelligent dialogue? I don't remember talking to the Beholders.
The remaining screenshots do not reveal any details of the dialogue system but if you've ever wanted to see a statue from two different angles, this is your lucky day.