Ad Nauseum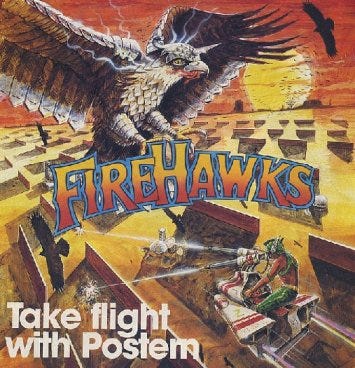 After spending the weekend leafing through my musty, dusty, collection of ZX Spectrum mags (woodlice prefer Your Sinclair) I've come to the depressing conclusion that the games industry has forgotten how to design great print ads.
Open any recent PC periodical and - assuming you can find a games ad amongst the dull hardware hawking - you'll see what I'm on about. Stilted renders, soulless computer-aided illustrations, car advert gloss... there's just no quirkiness or character anymore, no human touch.
The situation is so dire I think a brief tutorial is in order. For the benefit of publisher publicity departments everywhere, here's Tim's Top Five Tips For Designing Eye-catching Ads.
1. USE UNADULTERATED ILLUSTRATIONS

Graphics tablets and Photoshop are the work of Beelzebub. Locate a talented luddite artist that understands this, then let them weave their painty magic.
2. USE DEVELOPER MUGSHOTS


Nothing is more eye-catching than a passport booth pic of a man with a sweaty forehead.
3. USE CUSTOMER QUOTES


What could be more persuasive than a glowing recommendation from J. L. Bryant of Chalfont St. Giles, Bucks?
4. UTILIZE THE SPACE


You've paid thousands for the page so why not use it to advertise your complete catalogue.
5. SHOW THE GAMER HOW HAPPY YOUR SOFTWARE IS GOING TO MAKE THEM


Ecstasy, like yawning and herpes, is infectious.