Aer Is Journey In The Sky And Beautiful To Look At
I want to be a bird.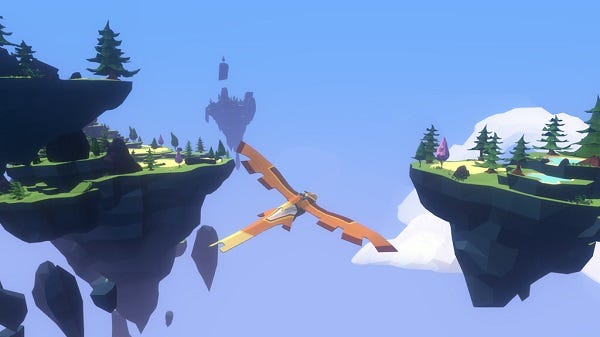 I'm stealing this line from a YouTube commenter: Journey - Peasant Edition. Those're probably the best three words you could come up with to describe AER [official site], a little indie game in the works from Swedish studio Forgotten Key.
AER reared its head during Gamescom, just over two years since the last time we saw it. You may remember us first seeing the game all the way back in 2013 when the team released an early proof-of-concept trailer. You can check that out here, it's fascinating to compare with the newer footage which has now been kindly uploaded by the studio.
Like Journey, it has a strikingly sparse style - The game shares that similar kind of floaty, geometrical look, and likewise its emphasis is on exploration. In the studio's own words:
"As a girl with the ability to take bird form, you will fly to explore and experience a marvelous yet dying world. With a focus on freedom, curiosity and aesthetics you will traverse the skies, home for nomad tribes, wildlife and secrets of old. You will soon be wrapped up in a tale of such stuff that magic is born from; prophecies, gods and dreams.
"With a sandbox-like gameplay you will be allowed to explore the world as you like, and during that time help its inhabitants. Ultimately you will challenge the gods and save reality itself."
AER is slated to hit sometime next year through Steam, as well as for our console brethren on Xbox One and PlayStation 4.