Aeronautomobiles: Distance Has Flying Cars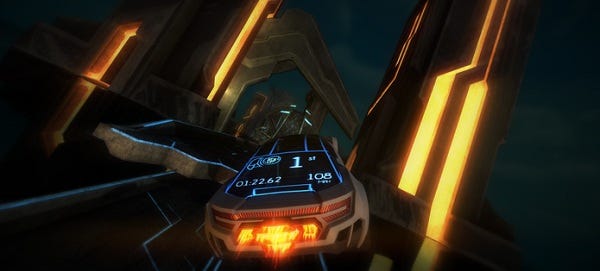 I already knew that the cars in Distance could fly but it's a fact worth repeating. Keep in mind that the cars' doors flip into position and become wings when aerial navigation is required and the situation becomes even more appealing. Following a successful Kickstarter campaign, the sequel-of-sorts to free techno racer Nitronic Rush is due in August of this year and the pre-alpha video below, shown at GDC, is exceedingly easy on the eyes. It's an all expenses paid holiday to a thumping great futuristic city. For the eyes.
Maybe I should have warned you that while your eyes will enjoy the sights and the catering, your ears may wish to take along their own selection of music. I'm perfectly happy with the soundtrack though and extremely happy that there will be exploration and world-building: "since the car can jump, rotate, and fly, you're able to explore the city to find hidden paths, as well as find secrets that reveal the city's past."
Distance's races are about survival rather than speed, although the two will often be connected. There's a full singleplayer game as well as LAN, online and split-screen, and the game will be DRM-free on Mac, Windows and Linux. I've probably spent more time in Far Cry 3's vehicles than any racing game in the last six months or so but I'm looking forward to this one.
If I did want to play an attractive game with cars wot go fast, which would people recommend? I quite fancy GRID but have been waiting for the new one. If anyone does feel like recommending games below, please use the following criteria - 1) how fast do the cars go? 2) how many graphics are there for each car? 3) do the engines sound like hairdryers or vacuum cleaners? 4) do I have to start the game with a robin reliant and save money for upgrades, paintjobs and new vehicles?
Number four is, of course, preferable to any other mode of progression.