Af-farm-ative: Agrar Simulator - Historical Farming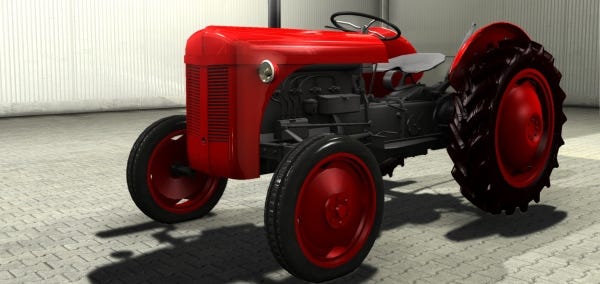 When I think about the golden age of farming, I personally can't see beyond 1897. Don't argue. I know the advances of '98's "Carrot Injection Engine" revolutionised the speed that a plough could zip across the fields, but force feeding a horse carrot after carrot after carrot lead to the the equine rights riots and the infamous "Neigh More" speech. After that, human and horse relations hit an all time low. That's probably why Agrar Simulator - Historical Farming focuses not on classic horse and plough elegance, but instead looks to the tractorial advances of the 1950s all the way to the heady days of the '70s.

So if you're a farming fan of that particular time-frame then you're in hog's heaven, with promises of "the original machines in use in the 50's, and to till a field with a huge variety of well known 'Oldtimer Tractors'" screaming from the press release. I'm not sure any game can compete with its own hype, but promised tilling the Alps or Italian mountainside is nothing to be sniffed at. Especially if they use natural fertiliser. Now whatever you do, don't you dare turn this post's comments into a cheap series of agricultural puns - corny behavior like that will not be tillerated.
Sadly there's no trailer, but here we have the modern version in all it's modern niceness, and I totally removed the one that tried to get you to download an evil pirated copy.

It's out now!