Age Of Conan: Unchained Arrives Tomorrow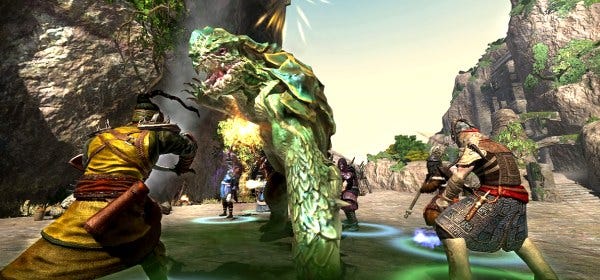 Age of Conan's free-to-play reshuffling, Age of Conan: Unchained, arrives tomorrow. How do we know? Well, it'd be pretty hard to do this job if we didn't know stuff like that. Also, a launch trailer just came out.
John's comprehensive detailing of the "freemium" business model and what changes to expect can be found in the above link (including new content that'll relate to the upcoming Conan movie), and you'll find the launch trailer after the jump. Beware! It's guarded by nine Cimmerian swordmaidens, each more beautiful and deadly than the last.

I... I could have sworn I told the swordmaidens to wait right here. Maybe they took a long lunch.
I'll admit to not getting along particularly well with Age of Conan, despite the fantastic job Funcom did of bringing the setting to life. Ever since I dropped World of Warcraft like a hot stone it's taken something pretty spectacular for me to willingly hand over time to any MMORPG, and Conan just couldn't offer that. Perhaps if they'd brought the attitude and brutality of the Conan setting to life as well- I could have gone for that, but tactile, razor-sharp combat and a sludgy MMORPG framework don't really mix, I suppose.
Hmm. Sadface. I'm off to play Tiny Barbarian again.