Age of Empires II Teases Upcoming Expansion, Camels
Hump day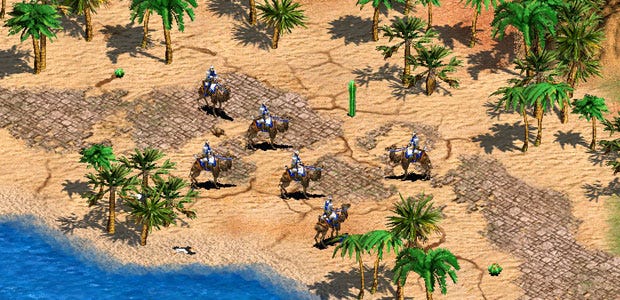 "But how many camel archers should I put in a screenshot to make it look like they're an audience for another camel archer who is giving a rousing speech?"
Microsoft Studios - in announcing a new expansion for strategy game Age of Empires II - suggest that perhaps the answer is five.
As part of a post marking the HD version's second birthday on Steam the developers outlined their future plans. They include the aforementioned new content which will be produced by the same team who created the Forgotten Empires expansion.
Further details will be forthcoming later in the year but the dev blog notes that:
"As with the Forgotten Expansion, you can anticipate a lot packed in there, including new civs, campaigns, game modes, units, and more. If your focus is more on the original AOEII experience, the new content development means you can look forward to additional support and features that benefit every owner."
Also on the roadmap are improved mod/Steam workshop support, performance improvements of various flavours and the total shunning of Windows XP for the rest of time.