Age of Empires 4 coming from Company of Heroes devs
SURPRISE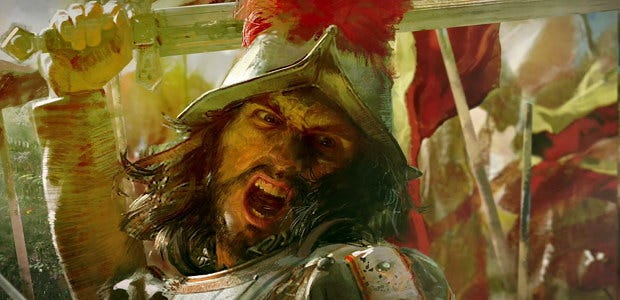 After returning to Age of Empires II for an 'HD' re-release and several years of new expansions, reviving the long-dormant real-time strategy series, Microsoft have finally announced a brand new instalment. Age of Empires IV [official site] is in the works at Relic Entertainment, the folks best known for the Company of Heroes, Homeworld, and Dawn of War games. What a treat! And what a surprise.
Microsoft also revealed a release date for Age of Empires: Definitive Edition, the revamp of the first game. AND they confirmed that Definitive Editions of 2 and 3 will follow. Strat-o-rama!
Age of Empires IV is coming, and that's about all we know beyond being able to pick out empires and eras from this announcement trailer:
What's most surprising about AoE 4 is that Relic are making it. For over a decade, they've worked on games published by their owners - THQ, and now Sega. I didn't know it was even a possibility for them to make games for others. I certainly am keen to see what they're doing. We don't yet know what they're doing or when we'll get to play, though.
"Stay tuned for more details, we cannot wait to tell you more," the AoE team say.
Far before then, Age of Empires: Definitive Edition will launch on October 19th. Unlike the 'HD' version of AoE 2 that's been receiving expansions over the past few years, AoE's Def Ed brings all-new graphics as well as underlying improvements and bunging in expansions. For those who worry about things changing too much, today's AoEfest did include a list of things that will stay the same.
Presumably the Definitive Editions of 2 and 3 will follow similar paths. And you'd hope that those new AoE 2 expansions -- The Forgotten, The African Kingdoms, and Rise of the Rajas -- will be included? Details on all this are thin for now, announced only this evening while surrounded by a crowd of men wearing capes. Gamescom.
If you're an AoEhead, you might want to watch the replay of tonight's stream for more fan fun and a look back over the series' history. And do read our look at the mod team who revived Empires.