Rebuilt: Age Of Empires Definitive Edition announced
Rome wasn't rebuilt in a day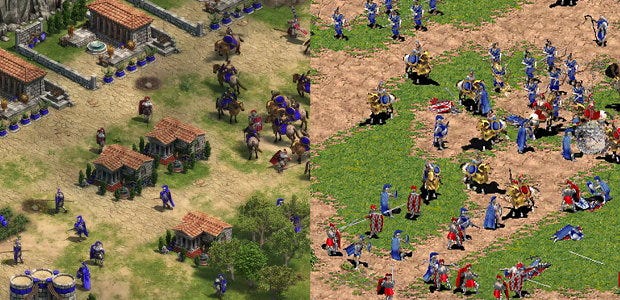 Age of Empires [official site] turns twenty this year and Microsoft are celebrating by releasing a Definitive Version of the game, with fancy new 4K graphics, all sixteen civilisations, including those from the Rise of Rome expansion, ten campaigns, and a host of other adjustments. It's coming later this year and you can sign up for closed beta access right now.
Like a disappointed dad seeing the onset of teen gloom, I'm frowning at the new graphics. They're tidier, sure, but they look a bit drab next to the original look. That'll be included as well, in an authentic 1997 mode.
More impressive than the visual overhaul is a completely re-recorded soundtrack. There'll be more info at Gamescom, with a hint that it'll be more information about Age of Empires as a franchise rather than this definitive edition of the first game specifically. While we wait to see what that's all about, take a look at the beta signup info right now (if the website has recovered from the hammering it's been getting since the announcement).