Age Of Empires II HD Advancing To The Steam Age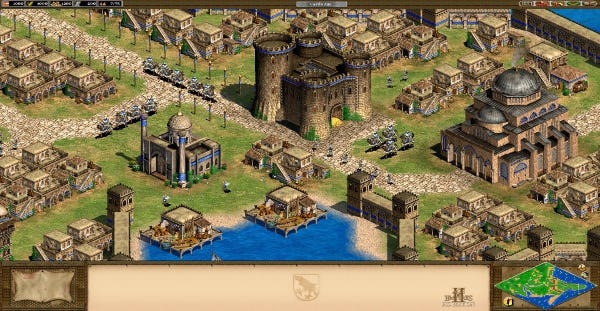 The Age of Empires series has seen better days. Days like the year 1999, for instance. That's when Age of Empires II: The Age of Kings charged onto the itsy-bitsy adowwwwable killing fields, and oh what a grand thing it was. It even looked quite nice for the time, eschewing 3D razzle-dazzle in favor of goode ye-olde-fashioned sprites. Times, however, have changed, and monitors have grown wide and voracious in their appetites for tender, succulent resolutions. Thus, Microsoft's deemed it high-time for a re-release, on that newfangled, installation-frisbee-free Steam contraption that'll probably never catch on, no less. Graphics, however, aren't the only thing getting a modern makeover here.
The new version heralds from Defense Grid developer Hidden Path, and it comes with more bells and whistles than you can shake a stick covered in bells and whistles at:
"In Age of Empires II: HD Edition, fans of the original game and new players alike will fall in love with the classic Age of Empires II experience. Explore all the original single player campaigns from both Age of Kings and The Conquerors expansion, choose from 18 civilizations spanning over a thousand years of history, and head online to challenge other Steam players in your quest for world domination throughout the ages."
There's also multi-monitor support for those of you who profusely bleed LCD screens when nicked by particularly resilient twigs and - perhaps most excitingly - full Steam Workshop support. Download all the Westeros maps!
It's coming to Steam on April 9th for a fairly reasonable sum of $20. Admittedly, you can probably buy the original and mod it into looking better for less, but the convenience of this package is nice, and it'll be excellent to have more than a decade's worth of user-created content under one umbrella. Now then, fondest memory of AOE II: go!