Age Of Wonders III/3/three/iii/³ Announced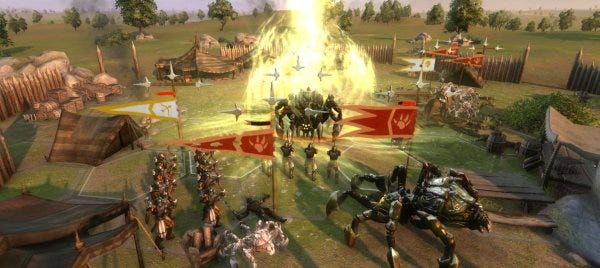 There is to be an Age Of Wonders III. Or 3. The press release calls it both. I shan't commit until I see a box cover. The Dutch devs, flush on the success of Overlord 2, have announced their next project... hang on - didn't Overlord 2 come out four years ago? What have you been doing for four years, Triumph?! Making Age Of Wonders iii it seems, 11 years after the last one.
It's to be a "modern reimagining" of the series, which presumably means it's no longer set in those old fuddy-duddy times of wizards and magic, to, um, the modern wizards and magic? There's word of RPG elements sneaking their way into the RTS, with leaders of empires based on such classes. Development Director Lennar Sas explains,
"For example: as a Goblin Theocrat you can build your own holy empire, recruit little goblin crusaders or cute winged goblin angels equipped with flaming weapons, and wage war on your heathen enemies. We want players to be able to choose between lots of different play styles, without being restricted by fantasy clichés, like All Goblins Are Evil."
Thank goodness, an end to the awful representation of goblinkind in gaming.
It'll be in a shiny new engine (as you'd hope, with the last game coming out in 2002). Would you like a feature list? I bet you would.
Explore, expand and exploit a living fantasy world. Discover wondrous locations and gather legendary heroes.
Develop your domain, with many classes having the ability to change terrain and climates to suit your needs.
All new 3D graphics that provide a crisper and more detailed overview of the world and battle maps.
New styles of play are possible with the introduction of RPG style leader classes like warlord, theocrat, rogue and sorcerer, along with a wide selection of specializations.
Command a variety of races. Pick your starting race and shape your people's destiny using your leader's unique skills.
A brand-new tactical battle system renders each battlefield and siege in great detail; new rules include flanking and a massive set of special unit abilities.
An epic story campaign with two playable factions;. Choose the mighty Commonwealth Empire or join the Court of the High Elves, founded after the reunion of the Dark Elves and Wood Elves.
Compete online in extensive multiplayer modes and scenarios.
High replay value through random maps, difficulty modes and tools allowing user created content.
And here's the announcement trailer: