All The Bullets: GL Invasion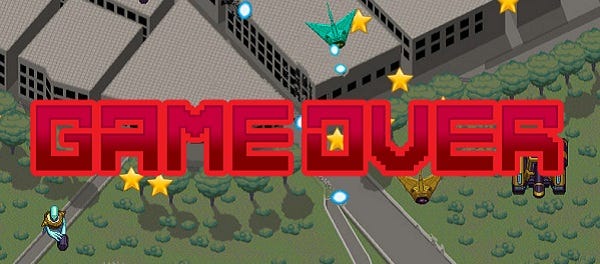 GL Invasion could be quite a good test and a bit of early evening fun. I don't know whether or not I'm terrible at bullet hell shmups or not. I probably am because I'm no Jack of all trades and am therefore terrible at almost everything. I've never really been able to compare my skills to the skills of others in this particular genre of killing things while attempting not to die though, so maybe I'm actually brilliant. Play the game for free in your browser and compare your progress to mine. Let's find out how terrible I am.
Using the single life that the stingy thing provides, tell me whether you spent the first five or so attempts dying before you even reached the coast and then realised that you were restarting the game on 'nightmare' difficulty because that's what it defaults to when you die. Because your pain fuels it. So that was a disaster.
Here's the good news though; after a couple of attempts on normal, I reached the building in the screenshot above. That seemed like a decent effort on my seventh attempt, which was actually my third proper attempt. What do you reckon? Am I rubbish?
I also expect people to point me toward "actual, proper, well 'ard" bullet hell shooters while telling me that GL Invasion is about as easy as my mother.
Spotted at Indiegames.com.