All The Fun Of The Fear: Circus World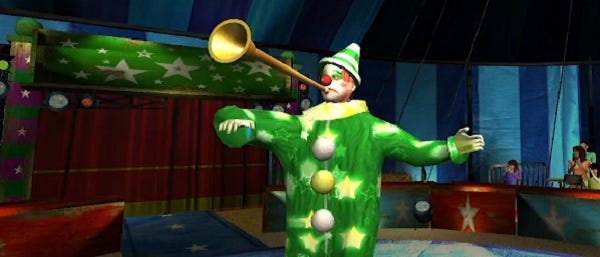 I think Circus World is trying to be a bit like Theme Park, except with alcoholic clowns and depressed animals instead of joy. The trailer makes the entire circus look smaller than a reasonably sized back garden, with four or five vagrants rounded up and forced to attend and applaud wildly lest a sad-eyed harlequin eats them. An elephant teeters, balanced on a wheel in a tiny ring as onlookers gasp in terror and amazement. The inevitability of a dead family being scraped from beneath his fallen flank is already evident in the tears that roll down the imprisoned pachyderm's wise cheek. A corpse is fired from a cannon. The circus does not care. The circus is a caravan of dreams. Available now, trailer below.
Buy low, sell high, drop a few ATMs around the place and hire the most popular acts. It all seems fairly simple, it's just that these kind of management games don't usually go with the whole survival horror vibe. Funny thing is, when I first watched the video, I could have sworn the circus was travelling across mainland Europe. But now...?
Don't watch it a second time I implore you. It changes. It adapts. It watches you.
By the pricking of my thumbs, something wicked this way comes. I have seventy two hours to put my affairs in order and then they'll paint my face, break my bones and squeeze my rag doll body into a miniature car, ready to spill out into the dirt of whatever city we haunt next.
Circus World is available now for £24.98.