Allegorical Horror: The Last Cargo
Oh lordy.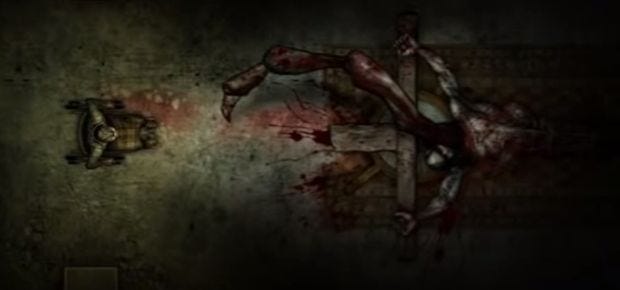 Like Minesweeper, Tetris, and 18 Wheels of Steel: American Long Haul, "The Last Cargo is the result of the experience of a man exposed to the debilitating power of religious indoctrination." It is a survival horror where the player faces the burdens of forced belief in a building built of his own faith; a ramshackle tower of creeping horrors, shadows, locked doors. It is an intriguing setting with an even more intriguing premise: the player's imposed faith has rendered him unable to walk, so he must use a wheelchair.

After all, the best horror games prey on weaknesses, and having a character bound to a wheelchair as he has to fight off the monsters that sprout out of a crucifixion corpse (yeah, it appears to be a bit heavy-handed) definitely looks like it'd have me back-wheeling. You'll see from the footage below that progress is slow, and the world only peeks out of the darkness through the shadows. The addition of a headtorch helps, but the batteries are a concern.
The team is currently hoping for funding over on Indiegogo. Here's the pitch.
And here's a bit more footage.
An atheist horror game? There's a Greenlight page if it holds an interest for you.