Amazon confirm Breakaway has gone away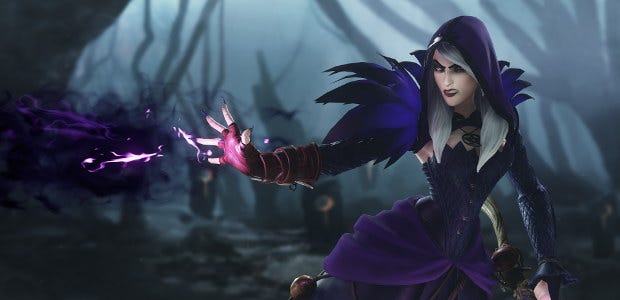 Amazon Game Studios, the development branch of the online bookshop/digital media empire, have officially ditched one of the three games from their initial PC lineup. They've confirmed rumours that the 4v4 MOBA-tinged fantasy fighty ballsport Breakaway is essentially dead, saying they couldn't do it right.
Rumours of Breakaway's demise have circulated for a while and the development team confirmed it on Friday:
"Since our last announcement, we have worked to implement community feedback and iterate on Breakaway's core gameplay. While we have developed many ideas and made a lot of progress, we are also setting a very high bar for ourselves. In spite of our efforts, we didn't achieve the breakthrough that made the game what we all hoped it could be. After a lot of soul searching, the team decided to focus on new ideas. As a result, Breakaway is no longer in active development."
Their post leaves the prospect of "a thunderbolt of inspiration strikes that leads us back to Breakaway" hanging but it doesn't sound likely.
It was interesting to see Amazon trying to build upon other technobits they own, the livestreaming service Twitch and the Crytek-based Lumberyard engine. Given that they're really getting into making their own TV shows, I am curious about their attempts to take over all forms of entertainment medium and sell us everything we will ever buy. They don't seem to be off to the best start in games.
We've not seen much of Amazon Game Studios' other two games since the big announcement in 2016. They're Crucible, a 12-player class-based last-man-standing shooter which encourages fleeting alliances, and a sandbox MMO named New World. They've been kept relatively secret, compared to break away, though I wouldn't take that to mean they're dead too. Amazon have a downright indecent amount of money, so they could happily work quietly these on years. And evidently they will eventually 'fess up if they do cancel a game.
Here's the first Breakaway exhibition match from back in 2016:
Ta for pointing this out, GI.biz.