AMD Ryzen 3 2200G review: The Vega CPU with 1080p gaming chops
Budget GPU killer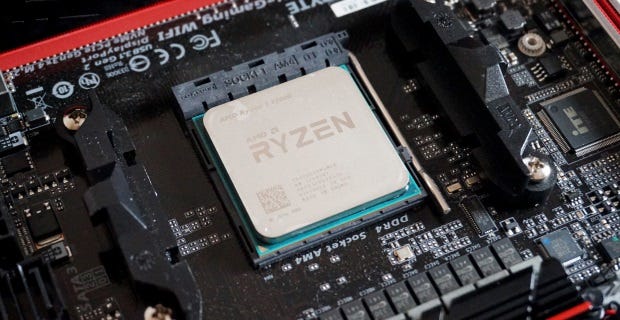 Graphics card prices continue to outrage and frustrate almost every PC person on the planet. No one likes spending more than they have to in order to play the newest, shiniest games, but the current cost of GPUs is almost enough to make you want to throw your PC out the window and turn tail to join the console brigade. It's that bad.
Before you do that, though, you'll be pleased to hear there's some very good news to be found in AMD's recently released Ryzen Vega CPUs. Thanks to their built-in Radeon Vega graphics - Vega being the same name given to AMD's top-end GPUs like the Radeon RX Vega 64 and Radeon RX Vega 56 - both the quad-core 3.5GHz AMD Ryzen 3 2200G on test today and the quad-core 3.6GHz Ryzen 5 2400G offer a surprisingly decent stab at 1080p gaming without the need for dropping hundreds of pounds on a dedicated card.
Now, let's not get ahead of ourselves. Despite sharing the same Vega name as AMD's premium GPUs, these integrated chips are very much aimed at budget builders and small form factor PCs. You're not going to using them for 4K or 1440p gaming, and even at 1080p you'll probably still have to lower the graphics settings right down to their most basic setting on most modern and recent releases.
But if you're looking to build or buy a basic PC for your kids, or just want something you can play Rocket League and undemanding esports-y games like CS:GO and Dota 2 on without breaking the bank, then the Ryzen 3 2200G is a great place to start - particularly when this entry-level chip costs just £84 / $105. That's a heck of a lot cheaper than buying an Nvidia GeForce GTX 1050Ti, for example, which is currently our recommended best graphics card for smooth gaming at 1080p under £200.
Even better, the 2200G will happily slot into any existing AM4 motherboard, and it comes with its own AMD Wraith Stealth cooler with a pre-applied layer of thermal paste in the box, making it incredibly easy to slot in and get going.
For the purposes of this review, AMD provided me with a Gigabyte GA-AB350N Gaming Wi-Fi motherboard, along with 16GB of G.Skill Flare X DDR4 RAM. Admittedly, first impressions weren't brilliant, as an issue with the motherboard's Wi-Fi kept making the whole thing crash. As a result, you'd do well to update your motherboard drivers as soon as you can before installing the Ryzen 3 2200G, as AMD have acknowledged that some AM4 motherboards won't support it straight out of the box.
Wi-Fi issues aside, though, the Ryzen 3 2200G certainly felt pleasingly nippy in day-to-day use. AMD have said it's really designed to replace the Ryzen 3 1200 as they start to usher in the rest of their new 2000-series Ryzen CPUs, but paired with 16GB of RAM I found the 2200G exceeded the speed of its intended predecessor quite comfortably when I put it through Geekbench 4's benchmarking suite.
Here, the 2200G managed a score of 4016 in the single core test and 11428 in its multicore test. Going by Geekbench's own benchmarking charts, that actually puts the 2200G more on par with AMD's Ryzen 5 1400 / 1500X CPUs as well as Intel's 7th Gen Core i5-7400, which isn't bad considering the 2200G's significantly smaller outlay.
I was suitably impressed with the Ryzen 3 2200G's gaming performance as well. Some games will naturally be beyond its modest, entry-level ambitions - don't expect to start playing Final Fantasy XV on it, for instance - but when I took it for a spin with a couple of today's better optimised 3D games, I was pleasantly surprised by some of the results.
In Wolfenstein II: The New Colossus, for instance, rattling through reams of Nazis felt as smooth as butter on Low at 1920x1080, and even Medium felt wonderfully stable. Admittedly, Steam's in-game overlay was throwing a wobbly at time of testing, so I wasn't able to get an accurate reading on either setting's average number of frames. However, both felt like they were easily punching above 30fps, with Low almost certainly hitting the full 60fps.
Hitman also put in a reasonable 40fps average on Low at 1080p. Admittedly, I had to drop down to 1280x720 to get Agent 47 strolling at a smooth 60fps on the Parisian catwalks, but nudging the settings up to High at 720p still produced an perfectly playable 45-odd fps in even the busiest of crowded bar scenes.
Another game that typically performs well in benchmarks is Doom. Sadly, this was beyond the Ryzen 3 2200G's means, as I wasn't even able to squeeze out a steady 25fps on Low at 1280x720. Yes, the 2200G can run it, but attempting to play such a fast-paced game like this at anything less than 30fps is really a disservice to the sacred art of demon skull crushing.
The 2200G also began to reach its limits in The Witcher III, as 1080p on Low only garnered a rough, choppy average of 25-30fps. Fortunately, you can still get Geralt slicing and dicing at 60fps on Low at 1280x720, and even a decent 40-50fps on Medium at 720p. Likewise, those after slightly higher resolutions can expect to see around 35-40fps at 1600x900, albeit still on Low.
The Ryzen 3 2200G isn't a complete replacement for a dedicated graphics card, then, and probably won't provide a huge amount of future-proofing for big releases further down the line. Still, being able to run something as recent as Wolfenstein II is pretty impressive stuff for an integrated graphics chip, and anyone whose game library largely consists of older shooters and RPGs will be absolutely laughing. Skyrim at 60fps on High at 1080p, you say? The 2200G can do that and more, as 2560x1440 monitor owners should also be able to enjoy some 60fps Fus-Ro-Dah action on Low as well.
On balance, it's probably worth spending the extra £45 / $55-odd and getting the 2200G's more capable sibling, the Ryzen 5 2400G, but those looking to keep costs down certainly won't be disappointed. Whether you're after a cheap system for the kids or you've simply got to the point where you really need to upgrade your PC but don't have the money for a dedicated graphics card, the Ryzen 3 2200G is both a decent stop-gap while you wait for graphics card prices to come back down and a great little CPU in its own right. It comes recommended.