AMD's new Ryzen Threadripper CPUs are really quite nippy
THREADRIPPERRRR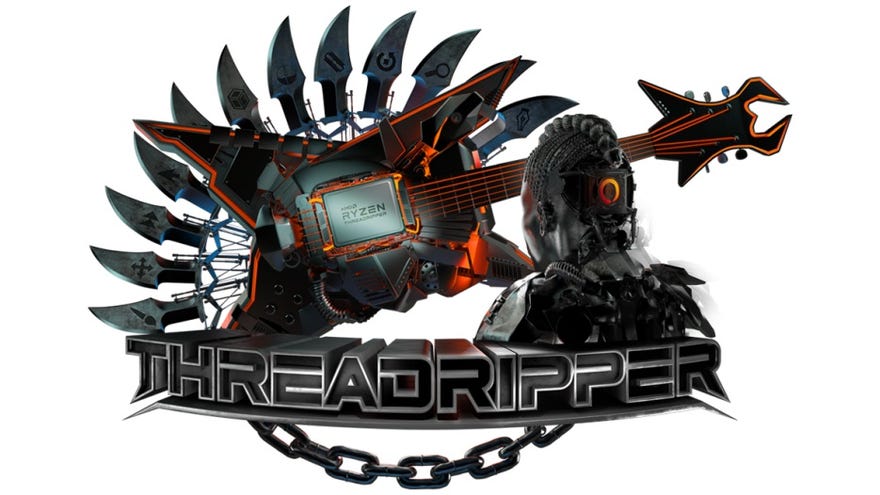 In the great 'CPU core-off' at Computex 2018, AMD definitely came home the winner. Their monstrous 32-core 2nd Gen Ryzen Threadripper not only had more core doodads than Intel's mysterious 28-core effort, but it was also destined for actual, real-life PCs owned by regular humans, not corporate enterprise servers that are presumably controlled by heartless robots. It also has, I have to say, the best and most ridiculous promo art I've ever seen in my life (even better, I might add, than the bonkers box art for PNY's Verto GeForce FX 5200 graphics card from the late 00s).
Well, that 32-core Threadripper (and I still can't get over the fact they called them THREADRIPPERS) is now finally available for pre-order - and it's so damn fast that AMD are proclaiming it's broken the world record for the Cinebench R15 benchmark, posting the highest score ever for a single-socket desktop CPU.
In truth, there was a lot of wangling involved in order to break said record, with AMD's official Overclocking Team employing the use of liquid nitrogen to push the Threadripper 2990WX's clock speed all the way up to a massive 5.1GHz. Under these conditions, the 2990WX managed a ginormous score of 7618 in Cinebench's multi-core test, beating the previous record holder, Intel's Core i9-7980XE, by almost 2000 points. They didn't simply pluck this figure out of thin air behind closed doors either, as the demonstration took place in front of press, analysts and AMD business pals sometime last month.
32-core CPUs don't come cheap, of course, and you can see from the shiny table below that you're going to be looking at spending a whopping $1799 for the privilege of that 32-core monster beast. To be fair, AMD's Threadripper line-up have always been very much designed with the so-called 'content professional' in mind, such as expert video and film persons and developers (as well as the odd high performance PC nut who just happens to have a lot of money to spend on their CPU), so it's not like they're expecting us normal folk to suddenly start snapping them up instead of their altogether more wallet-friendly Ryzen 5 2600/2600X and Ryzen 7 2700/2700X CPUs.
It's not just the 32-core 2990WX that makes up AMD's 2nd Gen Ryzen Threadripper line-up, though, as it's also being joined by three other CPUs for a total of four. All of them are built using AMD's 12nm (nanometer) Zen+ architecture, and two will be arriving in this fair month of August, while the others will be speeding in sometime in October. They're all compatible with existing X399 chipset motherboards with TR4 sockets, too, so if you're an existing Ryzen Threadripper-er, you won't need to buy a new motherboard to get them working - all you'll need to do is a small BIOS update and they'll be ready to go.
| Model | Cores / Threads | Base / Boost Frequency (GHz) | L3 Cache memory (MB) | TDP (Watts) | PCIe Gen 3 lanes | Price (US) | Release date |
| --- | --- | --- | --- | --- | --- | --- | --- |
| Ryzen Threadripper 2990WX | 32/64 | 3.0 / 4.2 | 64 | 250W | 64 | $1799 | August 13 2018 |
| Ryzen Threadripper 2970WX | 24/48 | 3.0 / 4.2 | 64 | 250W | 64 | $1299 | October 2018 |
| Ryzen Threadripper 2950X | 16/32 | 3.5 / 4.4 | 32 | 180W | 64 | $899 | August 31 2018 |
| Ryzen Threadripper 2920X | 12/24 | 3.5 / 4.4 | 32 | 180W | 64 | $649 | October 2018 |
That said, AMD's own performance tables show the 2950X Threadripper - their prime target for enthusiast gamers - actually performs 6% slower than Intel's corresponding Core i9-7900X CPU when it comes to gaming. The latter is, admittedly, $100 more expensive than AMD's $899 job, but over the course of testing it will 11 games at 1080p, the 2950X's average FPS just couldn't match its Intel rival. Admittedly, AMD didn't divulge what settings they used, or indeed what games they used, but if you're after a top-notch CPU for your gaming rig, you may think it's worth spending the extra $100 in this case to get those faster frame rates.
Where the 2950X pulls ahead of the Core i9-7900X is in creative applications. Its Cinebench R15 score, for example, was 41% higher, and it was 18% quicker in the Handbrake benchmark as well. The WX series go even further than this, too. Compared to Intel's $1999 Core i9-7980XE, the 2990WX is 51% speedier in Cinebench, 47% quicker in POV-Ray, 35% faster in Corona Render, and 39% nippier in Blender. That's pretty compelling if you're the type of person that uses those fancy pants applications on a regular basis, but are you really going to fork out that much money for a bangin' CPU to play games with?
If you do happen to have a spare £1640 / $1799 knocking around, however, then the 2990WX is now available for chucking money at.