American Truck Simulator now gert big again
It's a beauty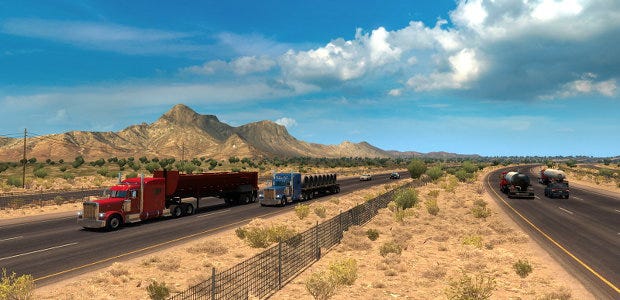 America is now bigger than ever as American Truck Simulator [official site] has officially launched its rescaling, going from 1:35 scale to 1:20. This means longer roads and grander landscapes, and developers SCS Software have rebuilt a lot to be more interesting and varied too, including new landmarks. The new scale "transforms a great game into a sublime one", our Alec declared after playing a beta version, and I've certainly been impressed by it too. The update is now live so it should be waiting for you next time you slip on your "Keep on trucking" cap and crack open a Bud Light.
Here, look, here are some more of Alec's lovely words about being absorbed by this big new world of virtual trucks:
"ATS feels enormous now. The sweep of the land, the size of the sky, the long wait between cities, the even longer wait to escape a city's lights and junctions and speed limits and grid-bound maze of roads.

"The slow loss of light, the pinks of sunset, the alien feel of dusk and headlights, the endlessness of the night and the unsettling silhouettes of distant mountains, the lonely click of your indicators on an empty road, the exhalation that comes when the sun finally rises.

"Tension and boredom and exhaustion and freedom and bliss and sweet, sweet relief when the GPS' time remaining counter drops to single-digit hours.

The mingled joy and sadness when the journey ends and purpose is removed. Standing up, shaking the leaden feeling from my legs, getting a drink, feeling awful reality creep back in, cracking my knuckles, sitting down to it all again."
You can see the final patch notes for update 1.5 this-a-way. And here's a new trailer to celebrate the new scale: