An Inkling Of Adventure: Octopus City Blues Demo
Blood junky octopus conspiracy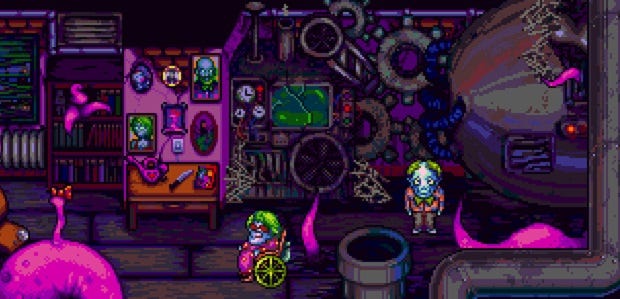 Octopus City Blues is an adventure game set in a city built around a giant octopus. So far, so weird. The player character sounds about as odd as the setting, as well as containing an apparent nod to fans of the Franz in his name - "Assume the role of Kaf Kafkaryan, a cowardly middle-aged octopus blood junkie and tentacle trimmer". Plagued by strange dreams, Kaf journeys into Octopus City's underbelly and uncovers a conspiracy, which looks like it might involve a cast of wretches and bizarre enough to make you cough up your naked lunch. The demo is available now and there are some suggestions as to how it should be played below.
Containing one of the early chapters, the demo runs on Windows, Mac or Linux and is designed to be replayable, like the rest of the game. Decisions to be made, consequences to be experienced.
We're really excited about this release and we hope you enjoy it. We encourage you to play more than once, because a lot of the content you'll see depends on your choices and approach. There are multiple endings, and some variations on each of them, in addition to various ways to complete the main quest. Talk to NPCs, learn gossip, and be careful about the choices you make. More importantly, have fun and remember to say no to Octoblood!
I'm glad the demo has arrived, partly because I want to play it but also because it's served to remind me that the game exists at all. Quite how it's possible to forget about the game about Octopus blood junkies, I'm not entirely sure. I blame conspiracies. Here's the trailer.