Another Another World: The Way Arrives On Kickstarter
Delphine And Dandy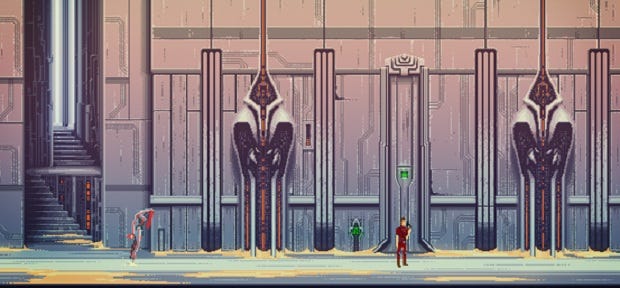 Another World made such a powerful impact on my young mind that I'm willing to overlook the trials and errors involved, preferring to remember the grace of the animation, and the sense of alienation and companionship. I'd never played anything like it and can't think of a similar game since that has lived up to those memories. The Kickstarter for otherworldly platformer The Way doesn't require my Delphine-branded rose-tinted glasses. Another World is a clear inspiration - just look at the shields and the alien beast if - but the video isn't reliant on flashbacks (reference very much intended). It's a pretty piece of sci-fi.
The integration of puzzles into the tech built into the planet's environments makes me think of The Dig. Now there's a game that disappointed me. Everything about the story and the characters grabbed me straight away, and the slightly harder edge to the science was appealing. That would be quite the adventure. Here's the story:
Without giving too much away, The Way tells a story about a member of space explorers team, who lost his beloved one and cannot accept her death. Finding ancient writtings on eternal existence during one of his last expeditions makes him come back there in search of the meaning of life itself.
With $20,000 already poured into the product, the team are seeking a final $15,000 (Canadian) and aiming for a September release for Windows, Linux and Mac. Ten Canada Bucks will get you an early bird copy and when they run out, the price goes up to fifteen.