Anthem Strongholds: Stronghold missions, preparation, Stronghold tips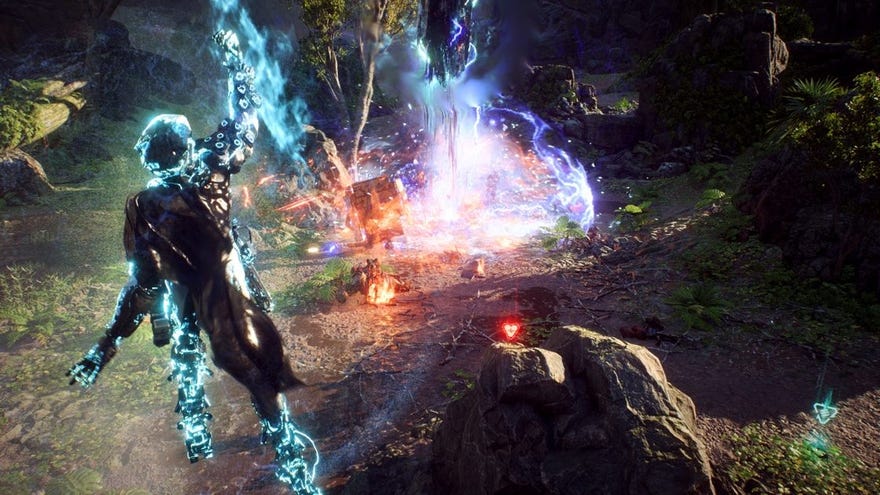 Strongholds in Anthem are essentially raids in other MMORPGs. You'll bring a full team of Freelancers and journey into the belly of the beast - dungeons full of enemies to kill, with a series of objectives to accomplish before facing off against one of the major bosses. These are by far the biggest challenges in Anthem, so this guide will give you an overview of how best to prepare, before outlining what exactly a Stronghold mission entails.
Anthem Strongholds guide
Looking for help with missions, or how to get to grips with navigation in Anthem? Be sure to check out our Anthem guide for everything you need to know about Bioware's latest space adventure.
Stronghold missions
Strongholds are raids with multiple objectives, hordes of enemies to defeat, and all culminate in a boss battle against a particularly difficult foe. You can approach these at certain difficulty levels, ranging from regular difficulty all the way up to Grandmaster Level 3. The higher the difficulty you go into these missions, the better the loot you'll obtain from them, thus the better loadouts you can potentially obtain for your Javelins. Here is a list of all the Strongholds in the game. If there is a link in the table, we have a guide for that specific Stronghold. More will be added in the coming weeks.
| Stronghold name | Description | Boss |
| --- | --- | --- |
| Anthem Tyrant Mine | Shut down the ancient relics and defeat the boss. | Swarm Tyrant |
| Temple of Scar | Destroy the Scar and avoid the traps. | Scelos |
| Heart of Rage | Fend off against the Dominion and subdue the Titans. | The Monitor |
Stronghold Tips
Before we go, here are some general tips based on pre-release footage and some observations I noticed.
Make sure that there's one of each Javelin type in the Stronghold mission group to promote ability coverage.
When you are holding items, make sure someone is covering you as your mobility is severely compromised.
Try to keep your shields and health up by avoiding fire from enemies.
Don't get too close to the boss at the end of the level and avoid any techniques that immobilise you. It's essentially a death sentence.
If someone else goes down, try to pick your moment to revive the other player. Clearing enemies around you with your other teammates can open the way for someone to revive the downed player.
If everyone goes down, you'll be sent back to the previous checkpoint, meaning you have to start that objective once again.
Once you've completed the Expedition, you'll see a huge amount of XP compared to normal missions, including Alliance bonuses, and a whole ton of loot. Take what you want and salvage the rest for crafting items.
That's everything for our Strongholds guide , but there's plenty more to see. There's also a lot of interaction with factions that you can learn more about in our Anthem Factions guide, while we also have a bigger overview of what you can do after the campaign in our Anthem Endgame guide.