Ape Out delivers gorillas and violence and jazz
And is very cross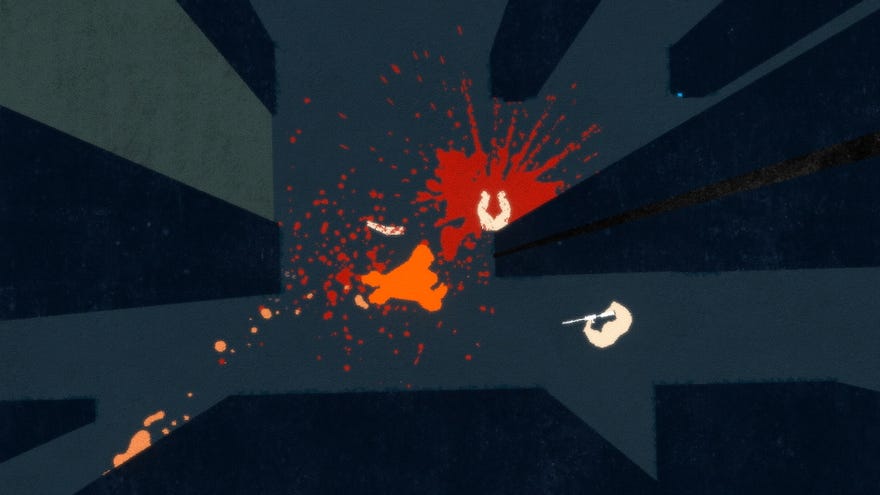 Graham said that, generally, RPS staffers at Gamescom write up the most important game they saw each day, at the end of that day. Welp, it's almost midnight and I'm writing about Ape Out. I played Ape Out on day one and I'm screaming at everybody about it being game of show, game of show, game of show. Here is the elevator pitch for Ape Out:
Ape Out is a top-down arcade-ish game with a stripped back, bare essentials look that communicates everything on screen effectively. The only controls are to move, smash and grab. The four different level scenarios are presented on the start menu as if they were albums you select, and as you play, your violence is scored by a kind of improvisational jazz drumming that punctuates every successful kill with a crash of cymbals (provided by games music expert Matt Boch). It's so stylish that for the next 18 to 24 months other developers will be trying to pitch their games as being like Ape Out, as in the sentence "It's like Ape Out, but with more of a steampunk vibe."
The levels are procedurally generated so they're slightly different after each death, and the game as a whole has the Pringles effect of "Just one more go… just one more…" so you can easily lose track of tiOH GOD A GORILLA! A GIANT GORILLA HAS SMASHED DOWN THE DOOR OF THE ELEVATOR!!
WHY DID WE EVEN KEEP A GORILLA IN THE OFFICE BUILDING??? IT MAKES NO SENSE! BUT IT DOES NOT MATTER, FOR NOW THE GORILLA HAS ESCAPED AND WE ARE PAYING FOR OUR HUBRIS!!! !
OH CHRIST IT GRABBED ONE OF THE UNACCOUNTABLY MANY, HEAVILY ARMED SOLDIERS PATROLLING THE OFFICE AND IS NOW USING THAT MAN AS A WEAPON. IT'S SMASHING MEN INTO THE WALLS AND POPPING THEM LIKE MEAT BALLOONS!! OH NO IT GOT SOMEONE WITH A MACHINE GUN!! I THINK THE GORILLA IS AIMING THE MACHINE GUN SOMEHOW! HOW DOES IT EVEN UNDERSTAND WHAT MACHINE GUNS ARE???
FUCK. FUCK, THE GORILLA JUST THREW JOE OUT OF THE OFFICE WINDOW! !! HE SCREAMED ON THE WAY DOWN AND MADE A LITTLE SPLAT ON THE PAVEMENT! I IMAGINE THIS MIGHT ALL BE BOTH HILARIOUS AND IMMENSELY SATISFYING FROM AN OUTSIDE PERSPECTIVE!
THE BLOOD. THERE'S SO MUCH BLOOD EVERYWHERE. PAINTING THE WALLS. LIMBS LITTER THE HALLWAYS. WE'RE ALL GOING TO DIE. THE GORILLA RIPPED A REINFORCED DOOR DOWN AND THEN CARRIED IT LIKE A SHIELD. AN ARMOURED GORILLA! OH THE HUMANITY! WE'RE NOT EVEN SLOWING IT DOWN! IT KNUCKLES ALONG AT INCREDIBLE SPEED!!
AND YET IS THE VIOLENCE NOT JUSTIFIED? CATHARTIC? BEAUTIFUL? THE GORILLA WAS CAPTURED AND IMPRISONED AGAINST ITS WILL IN AN INNER CITY OFFICE BUILDING!! WHATEVER IT DOES TO US IS JUST!!! WHATEVER NOW COMPELS THE GORILLA CAN FEEL NO GUILT AT THE BEAUTIFUL, COLOURFUL ORGY OF IMPROVISED VIOLENCE, AS IT WAS US THAT DREW FIRST BLOOD!!!
IT'S ON FIRE! THE GORILLA SMASHED OPEN AN EXPLOSIVE BARREL AND IS ON FIRE!!!! AND YET IT KEEPS COMING! THROW EVERYTHING WE HAVE AT IT! SHOTGUNS! MACHINE GUNS! EXPLOSIVES! MEN IN BODY ARMOUR! MEN IN LITTLE GREEN BERETS! IT MOVES SO FAST AND IS SO, SO ANGRY! SEND HELP!! PLEASE SOMEONE SEND HELP!!!
Ape Out is being published by Devolver Digital. It doesn't have a fixed release date yet, but Gabe Cuzzillo, who is the main parent to this angry, hairy jazz baby, said it's within a few months of being ready. He also said that it started life as a stealth game, which is quite funny to keep in mind when playing. If you remain unconvinced by Ape Out, the demo released on Steam last year is still up. And it's even better than that now.