Here's That Arma 3 Dinosaur Mod You've Been Asking For
Zombies: only the beginning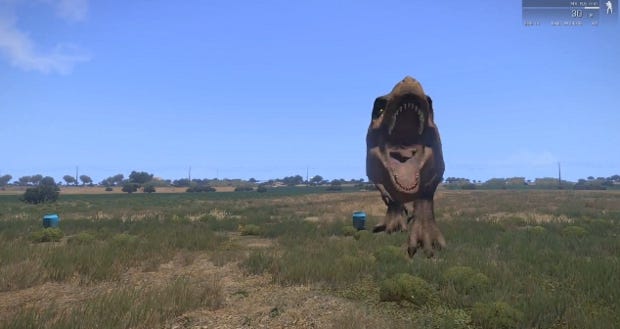 Universe: "I have become known for doing at least one thing no one will ever see coming per day. For example, at the dawn of time, it was existing. Last week, it was Miley Cyrus doing a halfway decent cover of Outkast's "Hey Ya." I must keep all beings sentient and otherwise on their toes (and otherwise)."
Pinky: "Gee Universe, what are we going to do tonight?"
Universe: "The same thing we do every night, Pinky... actually, I hadn't thought about it. Wow. I'm really dropping the ball here. I have become complacent. I have failed."
Pinky: "I don't really understand, Universe, but this Arma 3 game is boooooooooooring. Nothing ever happens, and then I lose-- NARF. Oh, I know! It needs a dinosaur level."
Universe: "Why, Pinky, that's entirely preposterous and frankly idiotic and... wait! That's it! Pinky, you're a genius."
Pinky: "Narf? Also, when did I become the universe's demigod sidekick? Brain?"
It's Arma 3, but with a dinosaur! That is the whole thing, thus necessitating a silly intro involving copyrighted '90s cartoon characters. For now this mod is only in the early stages, but silly ol' out-of-place Mr Rex already waddles quite nicely, so that's a good sign.
Next up? Fingers crossed for DinosaurZ. It'd kinda work, too. I mean, dinosaurs weren't exactly known for their swollen, perfectly shaped brains, but they'd still be a sight more threatening than mindless zombies. I have no idea if a dinosaur apocalypse survival game would actually be any good, but I'd love to see someone try.
But now I'm getting waaaaaay ahead of myself. Dinosaurs in a hyper-realistic military simulation. It'll probably be very silly. Are you prepared?