Moving Out: Arma 3 Dev Roadmap Includes Expansion Plans
A helicopter... roadmap?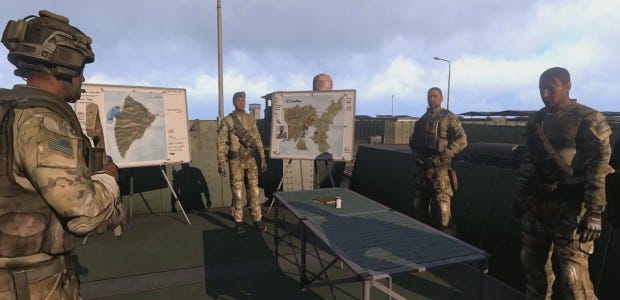 While the internet is all a-bustlin' with news of the latest Call of Duty, another maker of military manshoots announced their future plans. Except we like these military manshoots. Arma 3's three-part campaign is out and finished, but a development roadmap posted on the official Arma site makes clear that they're not done yet. Things to come: Steam Workshop support, new DLC and a full expansion.
Bohemia split their plans into three categories: platform updates, which everyone who has bought the game will get; DLC, which they say won't split the multiplayer community into haves and have-nots; and the expansion.
There are a few platform updates, including a new game launcher, but the Workshop support is most useful for such a heavily modded game.
As we announced earlier this year, a key goal is to extend Workshop support for addons. Essentially, this means handling the discovery, installation and maintenance of all kinds of mods - vehicles, mechanics, total conversions, etc. - akin to the way custom scenarios are currently accessed via Steam. In conjunction with some Make Arma Not War contest milestones, we aim to start rolling out its core functionality towards the end of May. Alongside this, we'll publish a more technical overview of the feature, too.
Before discussing their downloadable content plans, the post stresses their desire not to split the game's player-base. Part of this is that "features are free, content is paid," which means any engine upgrade that comes to support the DLC will also benefit existing players. There's two items of DLC detailed thus far, with more to come. The first, helicopters:
Together with the addition of distinctive new transport helicopters and a selective implementation of Take On Helicopter's RotorLib Flight Dynamics Model (FDM), the basic goal of this DLC is to add appropriate depth and breadth to helicopter gameplay.
The second is an overhaul of the game's shooting mechanics, which seems like a big deal in a game about shooting people and things:
In terms of content, new weapons that take most advantage of these planned features will be included; chiefly, this will involve ranged and high calibre weapons. We're selecting armaments that offer genuine diversity; not just many of the same type of weapon with minor visual differences, but a true range that offers distinctive gameplay alongside some inherent advantages/disadvantages. Again, our objective is to improve the A3 platform more broadly; new features and mechanics are designed with existing assets in mind, enhancing the sandbox as a whole.
Lastly, as if to prove that they're not just planning for the short- and medium-term, there's a new expansion coming in "late 2015".
We're at a stage of development where we want to take some risks, experiment, and innovate! With that in mind, the exact scope of our work will, for now, stay dark and will remain so until we're a bit more confident about what we can truly deliver. However, we do think it's worthwhile mentioning that work on a more significant package of new sandbox content and features is under way; clearly, this parallel development frames the rest of our plans.

So far, we've selected a new terrain that offers a distinctive feeling and gameplay. Building on our experience with Zeus, we're exploring ways to develop a more 'fully featured' 3D scenario editor. We're looking carefully at making investments in civilian life and diversity.
Which is tantalizing. Bohemia's work on the Arma series seems to have improved dramatically just in the past year, and it's a relief that they're not neglecting the series in light of DayZ's ridiculous success. DayZ just reached 2 million sales, by the way; that's 300,000 copies sold just in the last six weeks. Darn.