Arma 3: Laws of War DLC coming in September
Play humanitarian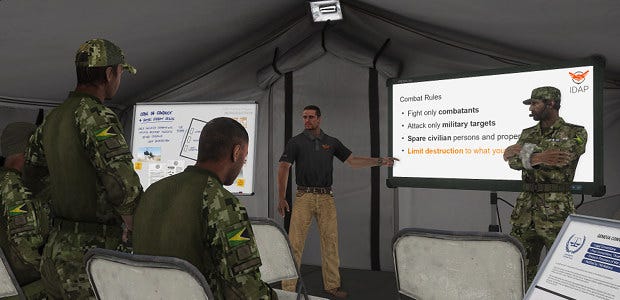 Simulated soldiers will get to join a humanitarian aid organisation 'Laws of War' DLC for Arma 3 [official site] next month, developers Bohemia Interactive have announced. This expansion, which Bohemia previously referred to by the codename 'Orange DLC', will bring a new mini-campaign starring someone from the new International Development & Aid Project faction. Naturally, this also means loads of new IDAP equipment that can be used elsewhere in Arma 3, including a cargo drone, new vans, and clobber. A new mine dispenser is in too, though it's probably not IDAP using that. Here, have a peek in this trailer:
Bohemia explain the story of the mini-campaign:
"Take on the role of IDAP explosive specialist Nathan MacDade, who is tasked with identifying and deactivating mines after the war in the Republic of Altis & Stratis has ended. While you are being interviewed by an investigative journalist, you will uncover what happened in the town of Oreokastro, experiencing the events from the perspective of various sides, in recollections that span multiple periods of time."
I'm guessing some people broke the laws of war.
The paid DLC will be accompanied by a free update adding new bits for all players. Bohemia say:
"Its highlights include: refined cluster strikes, the simulation of Unexploded Ordnance (UXO), the ability to drop (custom) leaflets from the sky, two new Showcase scenarios (Showcase Laws of War and Faction Showcase IDAP), a wide variety of emergency and medical supplies such as food bags, water bottle packages, blankets, stretchers, and IV bags, plus decorative objects such as shelter tents and new furniture, extra Steam Achievements, and much more."
Finally you can carpet the warzone with your poetry zines.
Full details on Laws of War and the update are this-a-way.
Laws of War will cost £8.99/11,99€/$11.99 when it hits on September 12th. "A portion of the proceeds from the direct sales of the Laws of War DLC in 2017 will be donated to the International Committee of the Red Cross," Bohemia say.