Arma 3's Tanks DLC rolls out alongside big free update
Tanks a lot!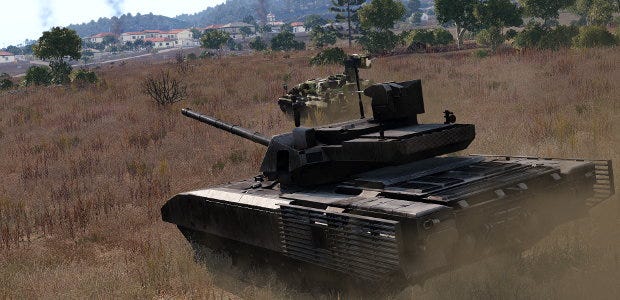 Military sim Arma 3 today launches Tanks, the last of its announced DLC packs. Tanks adds a sleek new main battle tank and several other types of big cars with guns, along with new missions where virtuasoldiers will get roll inside those clanky boys.
The paid expansion is accompanied by a free update improving fightcars for all players, including modelled interiors for all armoured vehicles.
So, Tanks! The eponymous rumbleguns are the T-140 Angara main battle tank in two variants, the AWC Nyx armoured weapons carrier in four variants from anti-tank to recon, and two variants of the Rhino MGS armoured fighting vehicle, a four-wheeler with big guns on top.
To show them off, Tanks has a three-scenario mini-campaign named Altis Requiem as well as a showcase scenario. Brum brum, bang bang.
As with Bohemia's other vehicle-focused expansions, the free update accompanying Tanks improves them for everyone. Update 1.82 gives every armoured vehicle in the game a proper modelled interior, improves their handing, makes the armour damage model more complex, whacks in new sounds for 'em, and more. New anti-tank missile launchers help fight the new fightcars, and several vehicles from the Apex have tank-busting variants too.
See the version 1.82 patch notes for more details.
Arma 3's Tanks expansion is out now for £9/€12/$10 on Steam and from Bohemia (who give a Steam key anyway). If any of youse played Tanks when it was on the game's test branch, do tell us: how is it?