Artifact deck building: how to make a deck, understanding the colours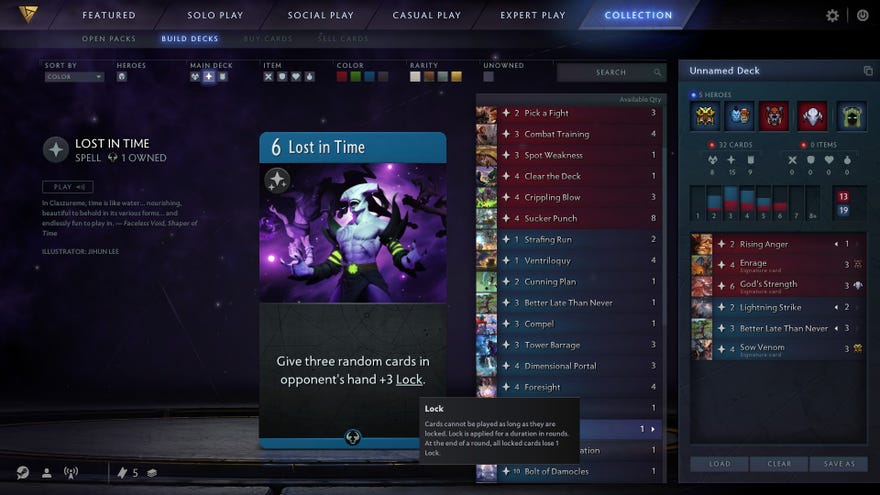 The first stage for any career in playing a digital TCG like Artifact is to construct your deck. You can of course opt to just take a deck list from the tier sites, or indeed the best decks found in our Artifact best decks guide, and there's nothing wrong with that. However, there are players who will want to explore the art of constructing their own solutions to those decks, with the most rewarding aspect being finding a brutal combination. This deck will go over the basics of making your own deck.
Artifact deck building guide
Making your first deck is one thing, but our Artifact guide hub is there for you to be able to understand more about how the game works, what the colours mean, for more on how to play the game, as well as a rundown on the colours and the types of cards that you can play.
Constructing an Artifact deck
Your main deck can have a minimum of 40 cards with exactly five heroes, but there is no indicated upper limit, meaning your deck can be as fat or thin as you like. If you want to pad a deck out with every card you want, then there's nothing to stop you. However, the downside of doing this is that your deck won't be streamlined to prioritise certain cards you may want more than others. Sometimes, especially when starting out, 40 cards isn't enough insurance. You can flesh out decks with some choice additions, as long as you don't go overboard, with the aim to streamline your deck list by removing cards that you find don't work when playing opponents.
You'll also be constructing a separate item deck. These have to be a minimum of nine cards in the deck, but again there is nothing to stop you putting more in besides the deck not being optimised properly. Since these cards don't consume mana when played, you just need to think of how much gold you're likely to get per conflict. Certain cards in Black for example give heroes increased bounty, so therefore you can manipulate the item deck to have more expensive equipment. When constructing the deck, use the tabs at the top to filter and sort the cards for ease of perusal, or you can search for the card you want in the search bar.
Individual card limits
When constructing a deck you can only have a maximum of one copy of a hero, and three copies of every spell, creep, or improvement. Each deck will contain five heroes. Three will automatically enter lanes when the battle begins, while the other two will arrive during turns two and three respectively. When you select a hero for your deck, you'll automatically get three copies of their signature spells - which can be anything from a creep, to a spell, or even an improvement. In the short time between now during the beta and the release date for Artifact, I highly recommend checking out the Artifactory Deck Builder, which has all the currently known cards that you can make your own decks with and share with links.
The other thing to keep in mind is that, unlike any other card game out there, there is no hand-limit size by default. Given that Artifact takes place over three lanes that share a hand, but not the mana required to play them, it makes sense to fill your hand within reason. Like Magic: the Gathering and unlike Hearthstone, there's also no limit to how big a lane can get, so if you're somehow able to flood the board with a huge number of creeps, all of them will be there, rather than dissipating into some ether.
It's unclear at this time if there is a penalty or an automatic game loss for not having cards in your deck to draw, or if in fact the deck can run out of cards to draw, but once we have a little more time with the game, we will update this with the information.
Understanding colours in Artifact
Artifact is similar to Magic: The Gathering in that certain spells are associated with certain colours. Unlike Magic though, they don't need the corresponding land cards to cast, instead going for a universal mana system, but the limitation is that you can only play spells of that colour in a lane with a hero of the same colour. For example, if you only have a black hero in lane one, you can't cast black coloured spells in lanes two and three.
Red - Heroes generally have high stats. Their spells have high costs and generally big effects that buff their own heroes or debuff enemy heroes.
Blue - Heroes are generally weaker than the other colours, but they have very strong focus on spells and tricks to get the advantage.
Green - Heroes have reasonably high stats, but green generally focuses on having many creeps and having spells that modify any ally's stats.
Black - Heroes have affects that can affect their own allies. Also as access to strong single targets, but also has many disruptive spells to tamper with your opponent's progress.
Currently the vast majority of decent decks are black, with either mono-coloured or dual-coloured decks dominating the meta. That said, there's at least one good deck that uses each of the other colours in the Artifact best decks guide I have produced.
Lanes in Artifact
Some cards refer to certain lanes. The three that can be mentioned are "All lanes", "Any Lane", or "Another Lane". However, if no lane is mentioned on a card, it only applies to the current lane you are playing the card. For example, the card Pick Off deals four damage to a unit on any lane, while a card like No Accident may cost one less and deal one less damage, but it can also only target a unit in your current lane.
Now that you know how to make the deck, you'll want to know which keywords are the most advantageous to use. Head to our Artifact keywords guide for the complete list. Alternatively you can also look at our Artifact Call to Arms set list to find the current cards in the game. You can also go to our Artifact best decks guide if you just want the best decks available currently in the game.