As If Parallax Didn't Already Look Insane Enough...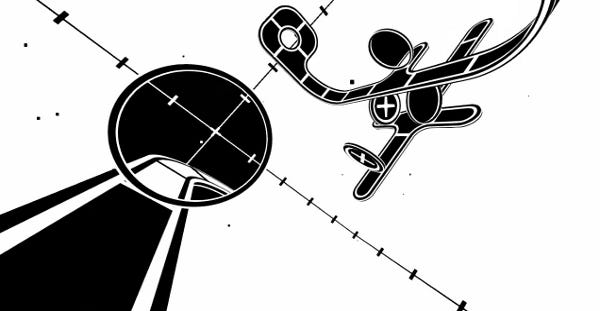 "Antichamber made way too much sense."
Surely that's the driving mandate behind Parallax. I can't think of any other mindset - if, indeed, the otherworldly creatures that produced this thing even adhere to our primitive concept of "mind" - that'd bring us to this point. John spotlighted it last year and was already "a bit scared by how complicated this looks." Continuing his train of thought, I am now terrified. Why? Because Toasty Games decided to turn off all the gravity.
Time for a not-quite-live blog of my experiences:
0:02 - Huh, what an interesting-looking place. Perhaps, in time, I will built a pleasant vacation cottage here.
0:08 - Wait, what.
0:18 - No, no, no, I don't like what just happened there at all. Not how the ground works. F+
0:28 - WHAT DOES THAT EVEN MEAAAAAN?
0:46 - Sonic the Hedgehog!
0:56 - OK, you can stop doing that now.
1:21 - Up is down. Down is a watermelon.
1:27 - DON'T GO IN THERE.
1:28 - AWWWW, HE WENT IN THERE.
1:35 - I guess anti-gravity is pretty much the only flavor Oreos didn't already have.
2:06 - Oh, I see what you did there. Except not at all because howwwww.
The "overlapping spatial dimensions" puzzle-platformer has no set release date, but it's standing on Greenlight's ceiling right this very second, if you're feeling generous. I'm looking quite forward to seeing more, though. Or at least, I think I am. What's forward again? Also, who am I, and do brains belong on the inside or outside of heads?