Ass Creed IV Vid Conspicuously Lacks Sea Shanties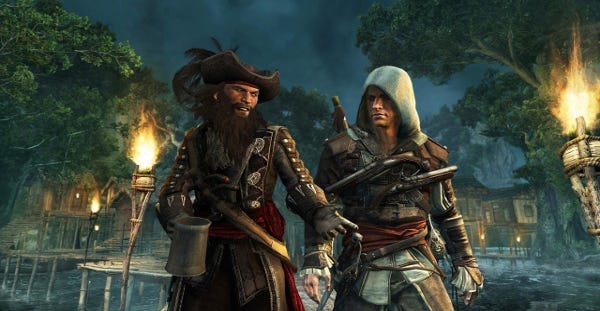 I say "conspicuously" because the latest Assassin's Creed IV: Black Flag trailer contains all other pirate things. Boats, poofy beards, vast seas, tropical settings, gruff voices chattering, cannons, SHAAAAAAAAAAAARK, dead men floating, black flags, a different SHAAAAAAAAARK, and magnificent hats. No sea shanties, though. That is the crying-est of shames. Oh, hm. No shoulder parrots either. And hey, where are all the eyepatches and peg legs? Jeez, this doesn't look like a realistic pirate game at all. So much for historical accuracy, game series about cyber memory men who survive physics-defying leaps into hay bales and murder pretty much everyone who died between the years 1189 and right now. What a sham.
So yes, there are pirates. They're not entirely stereotypical, but they still do many standard pirate things - just with gratuitous slow-mo and stylish blood splatters.
Most of it looks like pretty standard Assassin's Creed fare, but Brendan's write-up of the reveal did carry a few appetizing morsels of intrigue. Mainly, the prospect of an open ocean has me chomping lemons in a scurvy delirium of delight. Expanded, more prominent ship-to-ship combat is also rather enticing, but I'm not sure how much stalky-listeny-collecty-stabby tedium I can stomach after so many other entire games of it.
I suppose I'll find out this fall, as will everyone else on Earth. Maybe even some real pirates. "Yeah, this is decent," they'll say while terrorizing a Somalian coast with illegally acquired guns and grenades, "but where are all the shanties? And shit, I haven't even seen a single shoulder parrot yet. What a sham."